Hubert Waber
'... Starting with the performance in the Circustheatre, Scheveningen, on September 27, 1973. The singers wee excellent, most notably Hubert Waber and Nico Boer. Take for example their drinking scene. I am not aware of any other recording that reveals so well just what can be made of that scene...' (Walter Knoeff, review of Die Entführung aus dem Serail conducted by Hans Vonk, Circustheater Scheveningen, September 27, 1973)
Hubert Waber was born on April 3, 1938 in Heer (currently part of Maastricht), Limburg, The Netherlands. Initially, he was employed in the graphic industry, in a printing facility. Once he discovered his voice, he trained with Leo Ketelaars in Maastricht. In 1966 he debuted as Ramfis in Verdi's Aïda on the stage of the Zuid-Nederlandse Opera (South-Dutch Opera). For a while, he sang with the Wiener Kammeroper, where he debuted in 1967, in Mozart's La finta semplice. This was also the year in which his steady engagement with the Dutch National Opera started.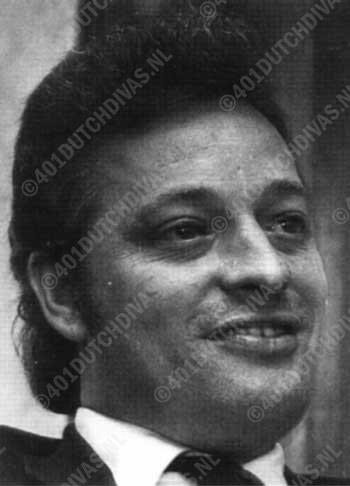 ollowing that, he won the 'Toonkunst' Encouragement Prize at the International Vocal Competiton Den Bosch 1968. The year thereafter, in 1969, he won a Second Prize there, that some critics and members of the audience had already wished for him at his first entry in the competition. In 1970, Waber was also among the prize winners in the Montréal Vocal Competition. With respect to Waber's 1968 appearance in Den Bosch, L. Sch. wrote in an unidentified newspaper clipping:
'Hubert Waber revealed a splendid timbre in Händel's 'The trumpet shall sound,' an aria that he performed with amazing ease. The same could be said of his renditions of Poulenc's 'Le bestiaire,' and aria's by Verdi and Halévy.'
Waber's term with the Dutch National Opera culminated in portrayals of Donizetti's Don Pasquale, and Osmin in Mozart's Die Entführung aus dem Serail. Other roles in his repertoire were Philips II in Verdi's Don Carlo, Sarastro in Mozart's Die Zauberflöte, Méphistophélès in Gounod's Faust, and Varlaam in Mussorgsky's Boris Godunov. Beyond the mentioned engagements, he made guest appearances with the Deutsche Oper am Rhein in Düsseldorf-Duisburg. Waber was also a noted concert baritone.