Joseph Schmidt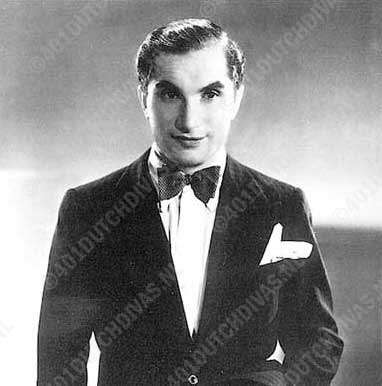 The Rumanian tenor Joseph Schmidt seemed to be a musical Sunday's child, predestined to have a successful and glorious career. The son of Jewish parents - Sara and Wolf Schmidt - , he was born on March 4, 1904, in the village of Davidende as the third child. He had two sisters, Regina and Betty. Four and two years old at that moment. Davidende, now Davideni is a village in Boekinova, Rumania. At the beginning of the Great War he moved with his parents and his two sisters to the village of Czernowitz, where he went through the local grammar school without much difficulty, showing a particular feeling for languages. At home they speak Rumanian, at school German and because they were Jewish he also learned Hebrew. He sang purely as a hobby in the synagogue choir and it was not until he was about twenty when it became clear that his future lay in music.
By that time, his voice had developed into a lyric tenor of such a remarkable quality, that he was frequently asked as a soloist with the various choirs in Czernowitz and its surroundings. In 1924, he even ventured a solo evening with folk songs, Jewish songs and opera arias from Puccini, Verdi, Leoncavallo, Bizet and Rossini. The evening was such a success, that the twenty-year-old Joseph Schmidt decided to go to Berlin to study singing. In Berlin, he was taken in hospitably by his uncle Leo Engel, who became closely involved with his nephew's musical career and would even become his impresario.
In a musical sense, too, Joseph Schmidt did well in Berlin. Soon, he drew the attention of the singing master Hermann Weissenborn, at whose intercession he was accepted at the state conservatory of Berlin. The only thing to briefly interrupt his way to the top was the military draft, in 1926. He served in the Boekinva and to his good fortune he was placed at the military band. He had to play the big drum. Must have been a funny contrast. But he also was asked to sing for the officers. Immediately after his military service he was cantor at the Czernowitz synagogue for a while, but in 1929, he returned to Berlin, determined to build up a professional singing career from then on.
Joseph Schmidt had one great handicap for the profession of opera tenor, though: his length. A singer of only five feet tall would only be able to perform a limited number of parts on the opera stage, and these certainly did not include the parts for which he seemed destined in view of his vocal qualities. In some scenes, his height of only five feet 1) could be concealed, but more often it could not, certainly not in lovers' duets with sopranos towering over him head and shoulders. The Flemish pianist and accompanist of Joseph Schmidt, Leonce Gras (length 1.58m) told that Joseph Schmidt was at least 10 cm shorter. So, even 1.50m seemed not granted to him.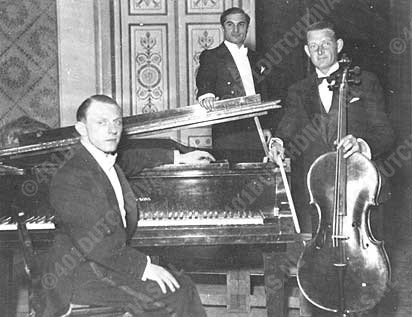 Concert in Antwerp, June 1933. At the piano Leonce Gras, cello Snellaert.
Opera
Nevertheless, Joseph Schmidt won particular fame as an opera tenor at first, as time was on his side. The twenties saw the rise of wireless radio, and especially in the early years of this medium, people would stay at home glued to the radio for hours on end. Enterprising radio producers eagerly took advantage of this, one of them the internationally famous Dutch baritone Cornelis Bronsgeest, who had recently become Director of Radio Berlin.
Bronsgeest immediately saw the possibilities of Joseph Schmidt: a tenor with a unique voice who, with his elegant timbre and natural charm just had to appeal to the audience also through the radio, but at the same time a singer who could never have a great career on stage. His voice was qua volume also to small for it. A marriage between such a singer and a microphone simply had to become a success, and Bronsgeest was right. The first broadcast on March 29, 1929, with Schmidt as Vasco da Gama in Meyerbeer's opera L'Africaine 2), enormously popular at the time, became a great success, and the next broadcasts led to a perhaps even bigger enthusiasm. He appeared in opera's as 'Die verkaufte Braut' (Friedrich Smetana) as Hans, 'Martha' (Friedrich von Flotow) as Lionel.
During the the following years - until 1933 - Joseph Schmidt sang no less than 37 opera parts for the Berlin radio, including works by Adam ( Le Postillon de Lonjumeau), Auber (La Muette de Portici) , Berlioz (Benvenutto Cellini), Charpentier (Louise), Meyerbeer (Dinorah, The Prophet), Mozart (Idomeneo, Die Zauberflöte), Offenbach (The Tales of Hoffmann), Rossini (The Barber of Seville, William Tell, Semiramide) and Verdi (Rigoletto, La Traviata., Il Trovatore, Un Ballo in Maschera, Don Carlos and I Vespri Siciliani). On the other hand, Joseph Schmidt only performed on the actual opera stage once, in 1939, he got the opportunity to sing the part of Rodolfo in Puccini's La Bohème at the Munt theatre in Brussels. The opening on January 19, 1939, was a success, in spite of the fact that the big opera stage seemed to emphasise his short physical stature even more, and performances in several other cities followed shortly afterwards. So he appeared in this production in the operas of Antwerp, Ghent and Liege, but also in a tour in Courtray, Oostende, Bruges and Verviers. In the Netherlands in Dordrecht, Utrecht and in the 'Princesse theater' in The Hague. After that , Joseph Schmidt was invited by the Munt theatre to perform a second opera part, Eleazar in La Juive by Jacques Halévy. It never go beyond plans, though. On May 10, 1940 the German troops invaded Belgium.
Cinema
It was clear, however, that a tenor of Joseph Schmidt's popularity had to be seen by his fans. Besides the occasional theatre performance, there were, at that time, long before television entered the scene, only two ways to accomplish this: at the concert hall or at the cinema. Joseph Schmidt appeared in both, but it was mainly thanks to the moving pictures that he became the darling of a much bigger public than he would ever have been able to reach as an opera singer. Schmidt played his first, small part in 1931, in Robert Wiene's 'Der Liebesexpress', but soon after that, plans were drawn up for films made especially for him. The first of those was Richard Oswald's 'Ein Lied geht um die Welt', about a talented singer unable to make a career as an opera singer because of his small stature, who wins great popularity thanks to the radio. In spite of the fact that his film saw its premiere in 1933, after Hitler had assumed power, this film, directed by a Jew and starring a Jew, was received extremely well in Germany. Other countries followed and to such an extent that in 1937, Oswald and Schmidt decided to make a new, English version entitled 'My Song Goes Round The World'.
Ein Lied geht um die Welt
text: Ernst Neubach
music: Hans May
Ein Lied geht um die Welt!
Ein Lied, das Euch gefällt!
Die Melodie erreicht die Sterne,
Jeder von uns hört sie so gerne!
Von Liebe singt das Lied,
Von Treue singt das Lied,
Und es wird nie verklingen,
Man wer es ewig singen.
Flieht auch die Zeit.
Das Lied bleibt in Ewigkeit.
In the meantime, though, other films had followed: 'Wenn du jung bist, gehört dir die Welt' (1934), 'Ein Stern fallt vom Himmel' (1934) and 'Heut' ist der schönste Tag in meinem Leben' (1936). An English version, by the way, was also made of 'Ein Stern fällt vom Himmel' (A Star Fell From Heaven) and from the fact that in his last film, 'Heut' ist der schönste Tag in meinem Leben', Joseph Schmidt even plays a double role, we can see that he was not only an excellent singer, but certainly also a good actor. When, after Germany, Austria, too had fallen under Nazi government, however, his European film career came to an end and, sadly, the plans for an American film were never realised.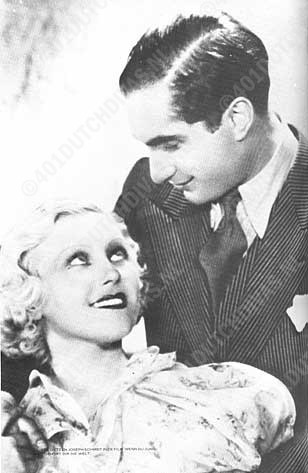 Liliane Dietz and Joseph Schmidt in the movies 'When du jung bist, gehört die Welt'.
He made several tours and appeared in world's most important concerthalls, London, Vienna, Budapest, Cuba and Mexico and several times in the United States. He returned in 1937 to Berlin. During the last years of his life, Joseph Schmidt's performances were mainly concentrated in Belgium, France and The Netherlands, where he made numerous concert tours. He was very popular in the Netherlands. The song - sung in Dutch language - "Ik hou van Holland" is a clear proof for this statement. His voice, despite small of volume, had a great range, was very shaded and colourful. The numerous records are proof for these qualities. His endeavours to safely reach America during the war all failed, though, and after long wanderings, the once so popular singer ended in a Swiss refugee camp, where he died of disease and exhaustion on November 16, 1942.
1) Other source speaks about 1.54m
2) On Odeon record OPXH 1002, Mozart's Idomeneo is mentioned, Kutsch/ Riemens
Joseph Schmidt - Una furtiva lagrima
Joseph Schmidt sings -Live in Holland