Wiebke Göetjes
Ganz in Pink mit einem Sopran aus Marzipan
".... der Eröffnungspremiere 'Hoffmanns Erzählungen (...) und - Publikumsliebling von der ersten Sekunde an - (...) Wiebke Goetjes, ganz in Pink, mit Blumenreifrock, marzipanernem Sopran und weicher Grazie: Ein Fleisch gewordenes Albumbildchen - die witzige, selbstironische Alternative zur Jammernummer der schwindsüchtigen Antonia."
Traunsteiner Tagblatt, 8. Juli 2003, zu "Hoffmanns Erzählungen"
Tannhäuser, Staatstheater Kassel, 15 februari 2003
" ... Das Ensemble bietet eine geschlossene Leistung. Herausragend Wiebke Göetjes Elisabeth. Wer diese Partie so, dynamisch bis zur stimmlichen Brüchigkeit auskostet, gibt zu erkennen, daß ihr dramatischer Konflikt sich nach innen richtet ... "
Dr. Andreas Bomba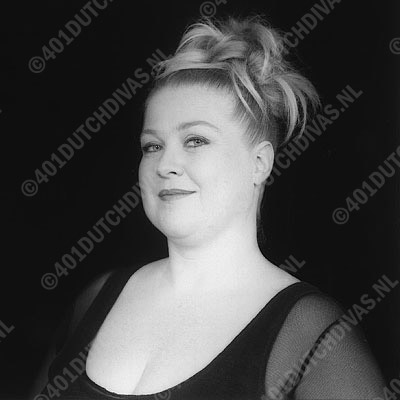 Wiebke Göetjes was born on 19 June 1961 and raised in Monnickendam. She studied at the Conservatory of Utrecht with professor Marianne Blok and graduated in 1992. At the same time she studied in the opera class of the Royal Conservatory in The Hague directed by conductor Kenneth Montgomery. She currently studies with Cristina Deutekom and Monica Pick-Hieronimi. After her graduation she was immediately given a contract for the role of Carlotta Giudicelli in the Dutch version of Andrew Lloyd Webber's musical The Phantom of the Opera, a part which she performed about 600 times in two years!
In 1995 she was contracted by the State Theater of Meiningen, Germany, where she made her debut in the title role of Verdi's Aida. She remained in Meiningen for four years, singing many leading parts in her vocal range, among them: Tosca/Tosca, Aida/Aida, Elisabeth/Tannhäuser, Leonore/Fidelio, Senta/The Flying Dutchman, Araidne/Ariadne auf Naxos, Donna Anna/Don Giovanni, Konstanze/The Abduction from the Seraglio, Dolly/Sly, and working with prestigious stage directors such as Peter Konwitschny (Aida), Pet Halmen (Tannhäuser) and Brigitte Fassbinder (Ariadne auf Naxos).
After she left Meiningen to work as a free-lance singer, she was engaged by the State Opera of Stuttgart to participate in their acclaimed Ring (Ring der Nibelungen) as Ortlinde in The Walküre. This complete Ring has recently been broadcasted and is now available on DVD.
Her next engagement brought her to the opera house of Pforzheim where she made her debut as Princess Turandot in Puccini's opera of the same name, a role that will be important in her career and which she will perform in the State Opera of Prague in the coming season with Peter Dvorsky as Kalaf. The Prague Opera also succesfully hosted her debut of Abigaille in Verdi's Nabucco earlier this season.
Before debuting in Prague in April of last season she was engaged by the State Opera of Kassel, Germany, where she performed the title role in Madama Butterfly by Puccini, did a new production of Wagner's Tannhäuser where she could star again in one of her most important parts, Elisabeth, this time working with British director Rosamund Gilmore, and was a special guest in the musical On the Town by Leonard Bernstein in which she played the role of Russian Prima Donna/Singing teacher, Miss Dilly.
- Photos Immling Musikfestival 2003 -
Wiebke Göetjes as Antonia in Hoffmann's Erzählungen, Hoffmann (Niclas Oettermann)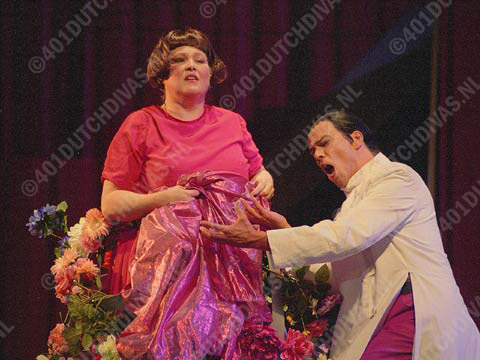 Wiebke Göetjes as Antonia in Hoffmann's Erzählungen, Dr. Mirakel (Wolfgang Glashof)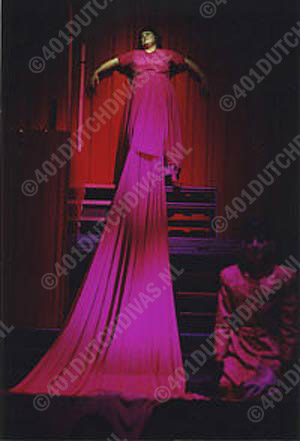 Again Wiebke as Antonia in Hoffmann's Erzählungen, Festival Immling
As a crown on the season she received the "TZ-rose", a prize given by the important newspaper of Germany, die Tageszeitung, for her creation of Antonia in Hoffman's Erzählungen by Jac. Offenbach, which she performed in the Operfestival of Gut Immling am Chiemsee.
As well as opera, Wiebke enjoys singing concerts and oratorio. Her most recent performances include a tour in Germany with the Philharmonic Orchestra of Halle as soloist in The Four Last Songs by R. Strauss and concerts with the Vogtland Philharmonic in performances of Mahler's Second and Fourth Symphony.
Her concert repertoire ranges from Bach to Brahms and from Mahler to Sofia Gubaidulina. As part of the traditional New Year's Day concert in the Concertgebouw in Amsterdam she sung works by Gubaidulina in a live broadcast with the the Dutch Wind Ensemble.
This season Wiebke will be performing in Germany and the Netherlands as a soloist in Verdi's Requiem, a piece that she has repeatedly sung in the Concertgebouw. Further engagements include a tour of Wagner's Wesendonck Lieder and gala concerts through Italy with the Philips Orchestra conducted by Jules van Hessen.
She is a regular guest in the traditional Amsterdam Openair Opera, where she sang Lady Macbeth in Verdi's Macbeth, Giselda in I Lombardi and Odabella in Attila in concert, the latter also staged for "Rotterdam European Capital of Culture" in 2001.
Together with her pianist Gilbert den Broeder she frequently performs lied and opera recitals in the Netherlands and abroad.
Besides her own activities as a singer, she feels obliged to help young singers with her experiences, and gives workshops and private singing lessons. From September 2004 she will be teaching at the Royal Conservatory in The Hague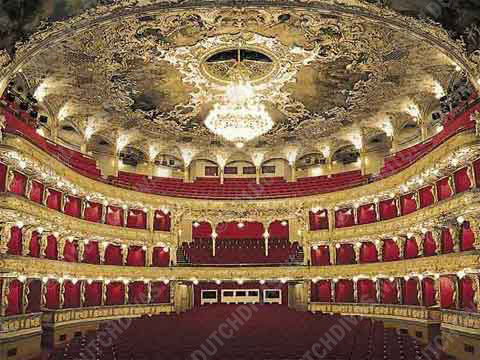 Staatsoper Praag (Prague)
Staatsoper Praag 2004
G.Puccini Turandot/Turandot (Kalaf: Peter Dvorsky), stage-manager Vaslav Veznik
G.Verdi Nabucco/Abigaille, stage-manager Karel Nemec
Festival Gut Immling 2003
Jac.Offenbach Hoffmann's Erzählungen/Antonia, stage-manager Esther Szabö
Staatstheater Kassel 2002/2003/2004
G.Puccini Madama Butterfly/Cio-Cio-San, stage-manager Urs Leicht
R.Wagner Tannhäuser/Elisabeth, stage-manager Rosamund Gilmore
L.Bernstein On the Town/Madame Dilly, stage-manager Forche
Volkstheater Rostock 2001/2002/2003
G.Verdi Aida/Aida, stage-manager Arila Sieger
Open-air Opera Amsterdam 2002/2003/2004
V. Bellini Norma/Norma, concert performance
G. Verdi I Lombardi/Giselda, concert performance
G. Verdi Nabucco/Abigaille, concert performance
G. Verdi Macbeth/Lady Macbeth, concert performance
Opera Rotterdam 2001
G.Verdi Attila/Odabella, stage-manager Jan Bouws
Stadttheater Pforzheim 2000/2001
G. Puccini Turandot/Turandot, stage-manager Ernö Weil
Staatstheater Stuttgart 1999/2000 Reprise 2002/2003
R. Wagner Stuttgarter RING, Die Walküre/Ortlinde, stage-manager Christof Nel
Staatstheater Meiningen 1995/1999
L. v. Beethoven Fidelio/Leonore, stage-manager Peter Seiffert
J.W.v. Goethe Cagliostro/Prima Donna, stage-manager Pet Halmen
W.A. Mozart Die Entführung aus dem Serail/Konstanze, stage-manager Ingolf Huhn
W.A. Mozart Don Giovanni/Donna Anna, stage-manager Ingolf Huhn
W.A. Mozart Die Zauberflöte/Königin der Nacht, stage-manager Brigitte Fassbinder
G. Puccini Tosca/Tosca stage-manager Jean Marc Oubrey
R. Strauss Ariadne auf Naxos/Ariadne, stage-manager Brigitte Fassbinder
G. Verdi Aida/Aida, stage-manager Peter Konwitschny
G. Verdi Luisa Miller/Luisa (concert performance)
R. Wagner Der Fliegende Holländer/Senta, stage-manager Jürgen König
R. Wagner Tannhäuser/Elisabeth, stage-manager Pet Halmen
E. Wolf-Ferrari Sly/Dolly, stage-manager Bruno Berger-Gorski
Concert repertoire a.o. :
L.van Beethoven Symphony no. 9, Various orchestras and conductors
G. Mahler Symphony no. 2, Orchester Meininger Theater, conductor Marie Jeanne Dufour
G. Mahler Symphony no. 4 , Various orchestras and conductors
R. Strauss Die Vier Letzte Lieder, Various orchestras and conductors, a.o. Marcus Bosch
G. Verdi Messa da Requiem, Various orchestras and conductors, Concertgebouw Amsterdam
R. Wagner Wesendonck Lieder, 'Lieder evening' with piano