Jacques Urlus - Discography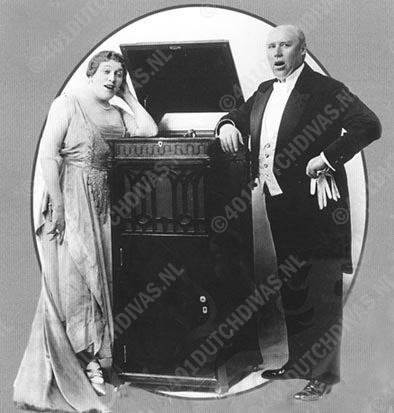 Jacques Urlus and Marie Rappold

Abbreviations in the list below of marked 78-rpm recordings:
CS)

together with Cato Engelen-Sewing, soprano

MR)

together with Marie Rappold, soprano

MK)

together with Melanie Kurt, soprano

TP)

together with Thila Plaichinger, soprano

WS)

together with Walter Soomer, baritone

DZ)

together with Desider Zador, baritone

PK)

together with Paul Knüpfer, bass
The Pathé recordings D001 up to and including D0025 from 1903 and D032 (Netherlands) up to and including D046 from 1910 (Berlin) are original released as standard cylinder and large 'Salon cylinder' and have been released later under the the same number as the so called 'etched labels' . Later releases of these recordings with 'paper label' got other numbers.
The Edison recordings from 1915-1917 are also released as 4 minutes Amberols (so called 'wax Amberols', though not of wax!) and on 4 minutes celluloid Amberols, the so called 'Blue' and 'Royal Purple Amberols'.
The with *) marked Pathé recordings and with *) marked Edison recordings are also listed in the appendix
See appendix for details
The list, originally published by J.Dennis in 'The Record Collector', is adapted by P. van Gurp and finally by me. J.L.
Titel - alphabetic

label, matrix, record

year D-nr CD-label

L' AFRICAINE (DE AFRIKAANSE)
"Landsowunderbar...O, Paradies"
Grammophon 3125r 3-42898
1907 D026
"Land zo wonderbaar...O, Paradijs"
Gramophone-Record 1326as H 22007
1923 D126 Erasmus/Favoriten/DD Records
"O, Paradies"
Edison 1426 unpublished
1913 D081b
"O, Paradies"
Edison 3603 83033
1915 D091 Marston
AIDA
"Holde Aida"
Grammophon 2326e unpublished
1911 D147
"Holde Aida"
Grammophon 602m 042381
1912 D070 Preiser
"O waar'ik...O beminde Aida!"
Gramophone-Record 1323as H 22006
1923 D125 Erasmus/DD Records
"Doch sage, auf welchem Wege"

MK) en DZ)

Grammophon 15266b 3-44081
1911 D057 Preiser
"Ich seh'dich wieder, meine Aida"

MK)

Grammophon 2138e 044173
1911 D055 Preiser
"Entflieh' n aus diesem Lande wir"

MK)

Grammophon 2139e 044174
1911 D056 Preiser
"Es hat der Stein sich uber mir ... "

MK)

Grammophon 2136e 044180
1911 D053
"Sieh dort den Todesengel schon"

MK)

Grammophon 2137e 044181
1911 D054
BAJAZZO zie PALJAS
CARMEN
"Vertel mij van mijn moeder"

CS)

Pathe 30234 etched label

*)

1903 D024
"Bloempje dat gij mij hebt gegeven"
Gramophone-Record 1324as H 22005
1923 D124 Erasmus/DD Records
"Hier an dem Herzen"
Grammophon 601m 042347
1912 D069 Preiser
"Eine Linie tiefer" met

WS)

Grammophon 3128r 2-44232
1907 D029
CAVALLERIA RUSTICANA
"O Lola, schone bloem"
Pathe 30225 etched label

*)

1903 D015
"O Lola"
Edison 1428 83009
1913 D082
"Moeder, de wijn was al te vurig"
Gramophone-Record 1327as H 22003
1923 D122 Erasmus/DD Records
LE CID
"Ah, tout est bien fini"
Odeon xxB7046 unpublish.
1924 D131
"Ah, tout est bien fini"
Odeon xxB7046-3 0-9111
1927 D143 DD Records
EURYANTHE
"Unter bluh'nden Mandelbaumen"
Grammophon 604m 042346
1912 D072 Preiser, Philips
"Unter bluh'nden Mandelbaumen"
Edison 4618 unissued
1916 D101
FAUST
"Gegroet, verblijf door haar ... "
Gramophone-Record 1320as H 22008
1923 D128 Erasmus/DD Records
"Laat me ook, Uw gelaat ...."

CS)

Pathe 30233 etched label

*)

1903 D023
"Auf eilet!" met

MK)

en

PK)

Grammophon 607m 044204
1912 D075
"Auf eilet!" met

MK)

en

PK)

Grammophon 607l/2m unissued
1912 D076
FIDELIO
"Euch werde Lohn in bess'ren Welten"

MK) PK)

Grammophon 606m 044203
1912 D074 Favoriten
"In des Lebens Fruhlingstagen"
Grammophon 15762b 4-42501
1911 D148
"In des Lebens Fruhlingstagen"
Grammophon 2327e unpublished
1911 D065
"Gott, welen DunkeL. In des Lebens"
Edison 3616 83030
1915 D094 Marston
DER FREISCHUTZ
"Durch die Walder, durch die Auen"
Edison 3589 83028
1915 D086 Marston
LA GIOCONDA
"Cielo e mar"
Odeon xxB7048 XX 80977
1924 D133
DIE GOTTERDAMMERUNG
"Brunnhilde! Heilige Braut!"
Pathe 15755 etched label

*)

1910 D040
"Brunnhilde! Heilige Braut"
Odeon xxB7099 XX 80983
1924 D141 Preiser/DD Records
"In Leid zu den Wipfein"
Grammophon 600m 042353
1912 D068 Favoriten/Preiser
"Mime hiess ein murrischer Zwerg"
Grammophon 599m 042352
1912 D067 Favoriten/Preiser
DER FLIEGENDE HOLLANDER
"Willst jenes Tages"
Edison 5528 57017
1917 D116 Marston
DE HUGENOTEN
"Zoals een droom...Rein als de sneeuw"
Gramophone-Record 1325as H 22009
1923 D127 Erasmus/DD Records
Duet Raoul-Marguerite de V.

CS)

Pathe 30235 etched label

*)

1903 D025
IPHIGENIE AUF TAURIS
"Nur einen einz' gen Wunsch"
Edison 4622 rejected
1916 D102
JOSEPH
"Ach mir lachelt umsonst"
Edison 4617 unissued
1916 D100 Marston
"Vaterland, dien musst ich fruh ... "
Odeon xxB7047 XX 80985
1924 D132
DIE JUDIN (LA JUIVE)
"Recha, als Gott"
Grammophon 2339e 042313
1911 D058 Favoriten/Preiser
"Recha, als Gott"
Grammophon 2341e unpublished
1911 D060
"Recha, als Gott"
Edison 3598 82260
1915 D090 Marston
LIEDEREN
Allmacht, Die
Edison 4665 82252
1916 D105 Marston
Ave Maria
Gramophone-Record 1329asI[H] 22012
1923 D130 Erasmus/DD Records
Blonde Annie
Pathe 30229 etched label

*)

1903 D019
Heimliche Aufforderung
Odeon xxB7097 XX 80715
1924 D139 Philips/ DD Records
't Is of met Feeenhanden
Pathe 14250 etched label

*)

1903 D014
Mijne Moedertaal
Pathe 18968 etched label

*)

1903 D017
Mijn Moedertaal
Grammophon 3130r 92494
1907 D031 Favoriten
Murmelndes Luften
Edison 1419 83021
1913 D077 Marston
Murmelndes Luften
Edison unissued 3632 83037
1915 D097 Marston
O schone Zeit
Edison 4623 73008

*)

1916 D103 Marston
Out Lieken
Pathe 30230 etched label

*)

1903 D020
Sehnsucht
Edison 1420 83020
1913 D078 Marston
Sehnsucht
Edison 3590 73005/ 3557
1915 D087 Marston/IRCC
Standchen
Edison 1425 unpublished
1913 D081a
Still wie die Nacht
EdisonBlueAmberol 4664 28254
1916 D104 Marston
Traum durch die Dammerung
Edison 82252 5535

*)

1917 D118aMarston
Traum durch die Dammerung
Odeon xxB7095 XX 80714
1924 D137 DD Records
Wanderer, Der
Edison 1427 unpublished
1913 D081c
Weiss ich dich in meiner Nahe?

MR)

EdisonBlueAmberol 4682 28251

*)

1916 D107 Marston
Wenn die Schwalben heimwarts zieh'n

MR)

EdisonBlueAmberol 4687 28242

*)

1916 D109 Marston
Zauberlied, Das
Edison 1424 83022
1913 D081
Zauberlied, Das
Edison 3610 82066
1915 D092 Favoriten/Marston
LOHENGRIN
"Geef U voor dank, mijn lieve zwaan"
Pathe 30211 etched label

*)

1903 D001
"Mein lieber Schwan!"
Pathe 15761 etched label

*)

1910 D046
"Nun sei bedankt mein lieber Schwan"
Grammophon 3129r 3-42824
1907 D030 Preiser
"Nun sei bedankt mein lieber Schwan"
Edison 1422 83017
1913 D080 Marston
"Nun sei bedankt mein lieber Schwan"
Edison 2891 83017-1
1915 D083 Marston
"Nun sei bedankt mein lieber Schwan"
Edison 3236 83017-2
1915 D084
"Nun sei bedankt mein lieber Schwan"
Edison 3602 83017-3

*)

1915 D085 Marston
Lohengrin, duo uit de 3e akte,

CS)

Pathe 30232 etched label

*)

1903 D022
"Adem je niet met mij die zoete ... "
Pathe 30212 etched label

*)

1903 D002
"Das susse Lied verhallt"

MR)

Edison 4683 83054
1916 D108 Marston
"Heel ver van hier"
Pathe 30214 etched label

*)

1903 D004
"Hochstes Vertrau'n"
Odeon xxB7100 XX 80984
1924 D142 Preiser/ DD Records
"In fernem Land"
Grammophon 2342e 043320
1911 D061 Preiser
"In fernem Land"
Edison 3621 82277
1915 D095 Favoriten/Marston
"In fernem Land"
Odeon xxB7098 unpublis.
1924 D140
"In fernem Land"
Odeon xxB7098-2 0-9111
1927 D144 DD Records
"Keert hij dan weer"
(2e dl""Schon sendet nach")
Pathe 30213 etched label

*)

1903 D003
MARTHA
"Ach! so fromm"
Edison 5496 82278
1917 D115 Marston
DIE MEISTERSINGER VON NURNBERG
"Bij stille haard in wintertijd"
Pathe 30222 etched label

*)

1903 D012
"Am stillen Herd in Winterzeit"
Edison 3680 unissued
1915 D098 Marston
Walter voor de meesters
Pathe 30221 etched label

*)

1903 D011
"Morgenlich leuchtend im rossigen..."
Grammophon 3126r 3-42823
1907 D027 Favoriten
"Morgenlich leuchtend im rossigen..."
Edison 1421 83011
1913 D079
"Morgenlich leuchtend im rossigen..."
Edison 3622 82276
1915 D096 Marston
"Morgens bij flikkering in rossige..."
Pathe 30223 etched label

*)

1903 D013
MESSE SOLENNELLE
"Panis Angelicus"
Edison 5392 83083
1917 D111 Favoriten/Marston
LA MUETTE DE PORTICI
"Des armen Trost"
Edison 4666 unissued
1916 D106 Marston
Onbekende opname
Edison 1423 unpublished
1913 D080a
OTELLO
"Jeder Knabe kann mein Schwert mir entreissen"
Grammophon 2343e 042312
1911 D062 Favoriten/Preiser
"Jeder Knabe kann mein Schwert mir entreissen"
Grammophon 2344e unpublished
1911 D145
PALJAS
"Kom trek je pak"
Pathe 9040 etched label

*)

1903 D016
"Nein, bin Bajazzo nicht bloss"
Grammophon 2345e unpublished
1911 D146
"Nein, bin Bajazzo nicht bloss"
Grammophon 605m 042358
1912 D073 Preiser
"Nein, bin Bajazzo nicht bloss"
Odeon xxB7051 XX 80978
1924 D136 DD Records
"Thans spelen...Kom trek je pak aan"
Gramophone-Record 1316as H 22002
1923 D121 Erasmus/Favoriten/DD Records
DER PROPHET
"Herr, dich in den Stemenkreisen"
Grammophon 483s 042263
1910 D049 Preiser
"Kein' s von allen Erdenreichen"
Grammophon 484s 042264
1910 D050 Preiser
RIENZI
Aria uit Ie akte (Estehe, hohe Roma)
Pathe 30219 etched label

*)

1903 D009
"Erstehe, hohe Roma, neu!"
Grammophon 2340e 042319
1911 D059 Preiser
"Erstehe, hohe Roma, neu!"
Edison 5485 82275
1917 D114 Marston, Philips , IRCC
Gebed uit 5e akte (Allmacht'ger Vater)
Pathe 30220 etched label

*)

1903 D010
"Allmacht' ger Vater, bliek herab"
Grammophon 603m 042371
1912 D071
"Allmacht' ger Vater, bliek herab"
Edison 3596 82269
1915 D088 Marston
"Allmacht' ger Vater, bliek herab"
Odeon xxB7096 XX80981
1924 D138
SIEGFRIED
"Nothung! Nothungl Neidliches ..."
Pathe 15756 etched label

*)

1910 D041
"Nothung! Nothung! Neidliches ..."
Edison 3681 83040
1915 D099 Marston
"Aber wie sah doch meine Mutter ..."
Pathe 15759 etched label

*)

1910 D044
"Du holdes Voglein! Dich hort' ich..."
Pathe 15760 etched label

*)

1910 D045
"Heiss ward mir"
Pathe 15757 etched label

*)

1910 D042
"Heil dir, Sonne! Heil dir, Licht!"

TP)

Pathe 15726 etched label

*)

1910 D033
STABAT MATER
"Cujus animam"
Edison 5434 83082
1917 D113 Favoriten/Marston/IRCC
"Cujus animam"
Gramophone-Record 1328as I[H] 22011
1923 D129 Erasmus/DD Records
TANNHAUSER
"Het wonder wil ik prijzen"
Pathe 30217 etched label

*)

1903 D007
Duet 2e akte met

CS)

Pathe 30231 etched label

*)

1903 D021
"Erbarm U heer",Inbrunst im Herzen, I
Pathe 30215 etched label

*)

1903 D005
"O Walter",Inbrunst im Horzen, deel II
Pathe 30216 etched label

*)

1903 D006
"Gepriesen sei die Stunde"

MR)

Edison 5529 82279
1917 D117 Marston
TIEFLAND
"Es kam in jeder Nacht ein Wolf'
Grammophon 598m 042338
1912 D066 Preiser
TOSCA
"Welk zachte harmonie"
Gramophone-Record 1321as H 22000
1923 D119 Erasmus/Favoriten/DD Records
"En de sterren zij straalden"
Gramophone-Record 1315as H 22001
1923 D120 Erasmus/DD Records
TRISTAN UND ISOLDE
"So starben wir"

TP)

Pathe 15725 etched label

*)

1910 D032
"Wohin non Tristan scheidet"
Pathe 15758 etched label

*)

1910 D043 Favoriten
"O sink hernieder"

TP)

Pathe 15727 etched label

*)

1910 D034
DE TROUBADOUR
"Dass nur fur mich"
Grammophon 15761b 4-42502
1911 D064
"O, gij mijn een' ge hoop"
Gramophone-Record 1322as H 22004
1923 D123 Erasmus/DD Records
"Miserere; Slechts noode komt de dood"
Pathe 30228 etched label

*)

1903 D018
DIE WALKURE
"Ein Schwert verhiess mir der Vater"
Pathe 15751 etched label

*)

1910 D036
"Ein Schwert verhiess mir der Vater"
Grammophon 481s 042274
1910 D047 Favoriten/Preiser
"Ein Schwert verhiess mir der Vater"
Edison 5425 82246
1917 D112 Marston/ IRCC
"Ein Schwert verhiess mir der Vater"
Odeon xxB7050 XX 80976
1924 D135
"Friedmund darf ich nicht heissen"
Grammophon 482s 042275
1910 D048 Favoriten/Preiser
"Siegmund heiss ich"
Pathe 15750 etched label

*)

1910 D035
"Siegmund heiss ich"

MR)

Edison 5533 82277
1917 D118 Marston
"Was gleisst dort hell im Glimmer .."
Pathe 15752 etched label

*)

1910 D037
"Winterstormen" [label: Liefdeslied]
Pathe 30218 etched label

*)

1903 D008
"Wintersturme wichen dem Wonnenmond"
Pathe 15754 etched label

*)

1910 D039
"Wintersturme wichen dem Wonnenmond"
Edison 3615 82246
1915 D093 Favoriten/Marston
"Wintersturme wichen dem Wonnenmond"
Odeon xxB7049 XX 80986
1924 D134
"Hehr bist du"

MK)

Grammophon 486s 044167
1910 D052
"Siegmund, sieh auf mich!"

MK)

Grammophon 485s 044166
1910 D051 Favoriten
"Zauberhaft bezahmt ein Schlaf"
Pathe 15753 etched label

*)

1910 D038
WILHELM TELL
"Ah, Wohin" met

WS)

Grammophon 3127r 2-44231
1907 D028
DIE ZAUBERFLOTE
"Dies Bildniss ist bezaubernd schon"
Grammophon 2325e 042339
1911 D063 Preiser
"Dies Bildniss ist bezaubernd schon"
Edison 3597 82260
1915 D089 Favoriten/Marston
"Wie stark ist nicht dein Zauberton"
Edison 5356 57017
1916 D110 Marston
the Pathe recordings D001 up to D0025 from

1903 (Netherlands)

and D032 up to D046 from

1910 (Berlin)

:
D001 -

Nederland 1903


D002
30211 etched label
30212
30014 later release
30014
D003
D004
30213 etched label
30214
14237 later release
14237
D005
D006
30215 etched label
30216
30016, 30017 later release
30016
D007
D008
30217 etched label
30218
30017 later release
14247, 30018
D009
D010
30219, etched label
30220
no later release
idem
D011
D012
30221, etched label
30222
14266, 30015 later release
no later release
D013
D014
30223, etched label
30224
14264, 30015 later release
no later release
D015
D016
30225, etched label
30226
14265 later release
19042, 30018
D017
D018
30227, etched label
30228
no later release
19109
D019
D020
30229, etched label
30230
no later release
idem
D021
D022
30231, etched label
30232
no later release
idem
D023
D024
D025
30233, etched label
30234
30235
no later release
idem
idem
D032 -

Berlijn 1910


D033
15725, etched label
15726
no later release
idem
D034
D035
15727, etched label
15750
no later release
51715, 34007, 60034
D036
D037
15751, etched label
15752
52038, 34007, 60034
51890, 34008, 60033
D038
D039
15753, etched label
15754
52061, 34008, 60033
no later release
D040
D041
15755, etched label
15756
34010, 60027 later release
34009, 60028
D042
D043
15757, etched label
15758
34009, 60028 later release
23010, 60027
D044
D045
D046
15759, etched label
15760
15761
no later release
idem
idem

Edison 1915/ 1916

Matrix/ Edison disc

Amberol nr.

D085 - 1915
D103 - 1916
3602/ 83017
4623/ 73008
12427 'was'/ 28204 'Blue'
13171 'was'/ 28243 'Blue'
D104 - 1916
D107 - 1916
4664/ disc uitv. afgekeurd
4682/ disc uitv. afgekeurd
13179 'was'/ 28254 'Blue'
13191 'was'/ 28251 'Blue'
D109 - 1916
4687/ disc uitv. afgekeurd
13157 'was'/ 28242 'Blue'