Aaltje Noordewier-Reddingius
Das is nicht eine Sängerin wie andere, das ist ein Phänomen. *)
*) (That's not a singer like others; that's a phenomenon. Dr. Leopold Schmidt)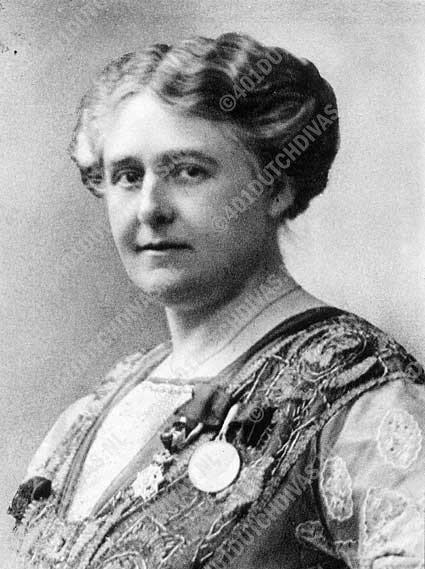 "...In the role of Godelieve she has now won immortal fame in Belgium. She has a silvery voice, each note sounds clear as crystal; it's a nightingale! And those pure sounds gain even more in beauty through a velvet, downy "timbre" that adds a special, pleasant lushness and roundness. She has a complete mastery over her voice: every sound is measured, every syllable clear and right. She performed the role with the passion that befits it, and often a rustle of admiration ran through the audience: never did we hear a more beautiful voice than hers or did her voice sound with more perfection: there was something in it that was not of this world. The phrases "Children, do not be so sad" and "take me back" had aroused general admiration, but when she breathed in a particular way the last words "to me death is not a trap", an indescribable emotion came over the whole audience… everybody held their breath, not one eye blinked until the last syllable - as if it were already a heavenly sound - died away…'
These words were written in a Belgian magazine on the occasion of Tinel's "Godelieve" (Leuven 1901)..
'Diese Stimme hat in der Vollendung, was eine Stimme nur besitzen kann: Kraft, Farbe, Glanz. Wie von Stahl, und doch wunderbar weich bis in die letzte Höhe kommen die Töne. Der Vortragstil ist von einer edlen Grösze, die kaum zu übertreffen ist.'
A critic in Heidelberg.
Translation: (This voice ultimately has all that a voice can have: power, colour, lustre. The tones are as if made from steel, and yet wonderfully soft right up to the highest registers. The delivery is of a noble greatness that is hardly surpassable.)
Aaltje Noordewier-Reddingius was born on September 1, 1868 Deurne, Noord-Brabant. Her father - Wijbrandus Gerardus Reddingius - was pastor. She was oldest child, in 1873, after her one brother was born the later famous poet Joannes. Her father died of a fatal accident on July 18, 1875 in his home Deurne, leaving the family with a mother in poor health. During the accident stayed Aaltje's mother - Margaret Louisa Justina Sibinga - in a spa in Germany.
For singers the first steps are as difficult as for other people. The mezzo-soprano Julia Culp told that she was forbidden to sing along in class 'because her voice was grumbly'. Even stranger was what happened when the eighteen-year-old Aaltje Reddingius applied to the Amsterdam School of Music (which had opened its doors two years earlier) on September 1st, 1886, her birthday. She was admitted conditionally on probation for a couple of months. When the Principal, Frans Coenen, and the singing-teacher Johan Messchaert had heard her sing at the audition, they had had strong doubts about her capabilities. Never had they admitted such a small voice to the School of Music. But its clearness had been surprising and Messchaert thought he had heard something special in the particular, lustrous sound of a single note. The small voice with which Aaltje Reddingius presented herself in Amsterdam originated in her home situation. She had lived with her sickly mother who suffered from asthma (her father, the Protestant minister of Deurne, had died young); the children always had to speak in a soft voice and even when Aaltje sang her little songs for pleasure she automatically did so with only half her voice. But three months of hard work under the guidance of Messchaert changed things. She was freed from her fear to sing aloud and to reach the highest registers, so that her "angelic voice" could acquire the great quality that she managed to maintain for many years.
Her piano playing, however, which she had developed in the places to which the fatherless family had moved successively, Helmond and Arnhem (with the conductor, organist and violist Meyroos), had always been of considerable quality. Hence the piano-teacher De Pauw, who is mentioned as such in the biographies of dozens of prominent Dutch musicians, had immediately taken her on as a student. Aaltje Reddingius continued studying with him, even when singing had become her main subject. She rose to performing the fourth piano concerto of Beethoven. As for the accompaniment of the songs she rehearsed herself or with her students, she took care of this herself up to a high age. For some time she thought of studying the violin; she also wanted to play a wind instrument. Although generally considered to be the perfect oratorio singer, one-sidedness was not in her line. For years she was especially known as the soprano in Bach's "Matthäus-Passion", in the annual performance with Mengelberg, which she missed only once or twice because of illness. It is a great pity that none of these performances has been recorded.
Mengelberg also had a great influence on her achievements. They both had as their motto: "never content, always better". She undoubtedly learnt much from him. Often she was asked whether she agreed with his opinions in every respect, which for her, of course, was a very difficult question to answer. They certainly had their disagreements. The following episode is typical for the relation between the two artists. Mengelberg was in a mood, in which he wanted to change everything in her performance. Repeatedly he interrupted her singing and wanted her to do it now in this way, then in that way, etc. Finally Aaltje got annoyed and in front of the choir and the orchestra she said friendly but firmly: 'Willem, you look after the orchestra and let me sing.' Not many soloists could afford such frank behaviour towards Mengelberg, but her relationship with the conductor was one of deep mutual respect and great affection.
It would be a mistake to form an impression of the quality of her singing from the records she made in America in 1926 and in London in 1929, shortly before her 61st birthday. Technically, the records made in New York show ignorance of how to handle a voice that required a large space. The works she recorded under more favourable circumstances with Anton van der Horst as organist also failed to do justice to her characteristic timbre, which so often had been called "not of this world".
She was very energetic and hard working. On more than one occasion she asked her fellow soloists for an extra rehearsal; perfection in ensemble singing was very important for her. With her teacher, the baritone Johan Messchaert, she sang in the exclusive a cappella choir of Daniel de Lange, which had no more than twenty members.
Because of her performance as first soprano of the delegation representing the Netherlands at the world exhibition for music and theatre in Vienna, she became acquainted with the town to which she would be invited repeatedly in the years thereafter. When the old Eusebius Mandyczewsky, the archivist of the Viennese "Society of Music Lovers", shortly before his death, guided a couple of young Dutchmen around, he asked with interest how Mrs Noordewier was - not Miss Reddingius, because in 1893 Aaltje had married Michiel Noordewier, painter and D. Litt., and thereby a colleague of the composer Alphons Diepenbrock, whom she had met already early in her career. In 1929 Mrs Noordewier moved as singing teacher to Hilversum, to the Beethovenlaan. The house was named "Nieuw Deurne", after her birthplace.
In the years directly after her final examinations Aaltje often performed together with men's choirs. In this way she got to know the country - and the country got to know her. Lieder singing alone did not attract her; she preferred to sing with the "Concertgebouw" wind sextet. Nor did she have the ambition to join the opera: once or twice she sang the role of Senta (Wagner), in concert form, and that was it. The Wagner family, however, asked her several times to come to Bayreuth to sing. Cosima Wagner had attended one of her concerts and had said afterwards that she had never heard a singer who seemed so suitable for the roles of Elisabeth, Elsa and even Brünnhilde.
Anton Verhey, Aaltje Noordewier and Pauline de Haan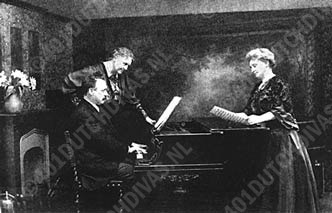 Aaltje Noordewier liked to sing in ensembles, as she did for several years in a quartet with the alto Pauline de Haan-Manifarges and the tenor Johannes Rogmans and baritone Johan Messchaert, her teacher. On one of those quartet evenings, in the "Paleis van Volksvlijt", a young man who was loudly applauding draw everybody's attention. It was Richard Strauss, still an unknown artist, who called to Aaltje: 'I want to prepare Berlin for the surprise of your voice!' Years later she sang in Leipzig the soprano's part in Liszt's oratorio "Christus". 'Afterwards, in the members' foyer', (as she told in an interview in the "Haagse Post" of September 1st, 1928), 'I heard suddenly whisper everywhere around me: "The Master". I wasn't really aware of what was happening when I saw everybody make place. Richard Strauss, who had become a world-famous artist since our meeting in Amsterdam, came up to me and shouted, so that everybody could hear it: "It was beautiful, just as in Amsterdam… Never has music touched me more deeply than it did then. For that I am still grateful to you".'
When Messchaert could no longer continue singing in the vocal quartet, Aaltje Noordewier and Pauline de Haan went on together as a duo and together with the organist Anton Verhey sang for many more years at church concerts. She had studied Bach's Passion music and his cantatas in depth, but was also interested in composers like Ravel, Roussel, Milhaud, Caplet and Diepenbrock. Just as Pauline de Haan sang most of Diepenbrock's alto solos for the first time, so Aaltje Noordewier could boast most of the premieres of his pieces for soprano. For many years they performed together, a co-operation based on deep mutual respect. In 1913 to their surprise they were invited for a music festival in Leeds. It turned out that Arthur Nikisch, who had to conduct Verdi's Requiem, wanted not to take any risk with the difficult ensembles and had promised to come only on the condition that the two singers would be there. Because of personal circumstances Pauline de Haan had to give up the duo. Aaltje Noordewier continued to give church concerts together with Johan Wagenaar, De Wolf, Phons Dutch, George Robert, Anthon van der Horst, and others.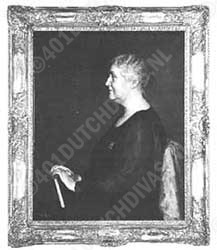 Pauline de Haan, who was born in 1872 in Rotterdam and had completed her singing studies with Julius Stockhausen in Frankfurt, like Aaltje Noordewier died in Hilversum, in 1954. In the corridors of the "Concertgebouw" you can see the portraits of this once famous duo, "Mizzi and Pizzi", as they were called at Mengelberg's silver wedding, celebrated on January 5th, 1913. The portrait of Aaltje Noordewier-Reddingius, painted by Georg Rueter, hangs in the soloists' foyer.
Aaltje Noordewier died in Hilversum on 16 April 1949 in her home New Deurne. Her husband Michael already deceased on June 14, 1942. The descendants of Aaltje Noordewier, children and grandchildren of her eldest son Hendrik Jan all live in the United States.