Cristina Deutekom
....the very special on the voice of Christina Deutekom is that such a voice only appears very seldom ... a big register, a reach of voice of four octaves.....there are of course more coloratura - sopranos and also very beautiful ones, but such a true, very dramatic coloratura-soprano is a rare natural phenomenon......
Coby Riemersma, zangpaedagoge
.....somebody told me, she sang formidable. Then I went to listen to her. And it was for the first time in my live, that I really heard all the notes of that difficult role.....I was completely upside down of that Queen of the Night.....
Lex van Delden, composer, Parool-criticus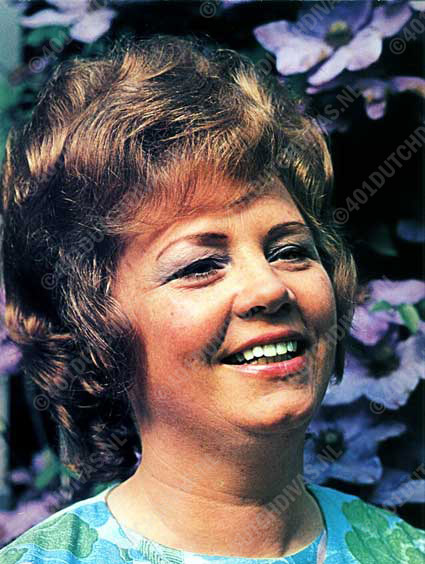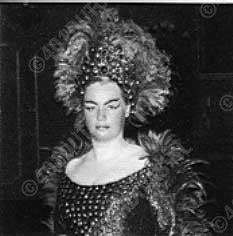 Christine Engel was born in Amsterdam in the Spaarndammer neighborhood at 28 August, 1931. Her father worked in a sugar factory and the family had no musical background at all, although her mother had a beautiful voice according to Stientje. Interest for music and specially for opera there was enough in the Engel family. At Sunday they often listened to the radio program "Opera en Belcanto", presented by Etienne van Neste at the Belgium Radio. Also both the parents were active choir members. Through the singing-club of the neighborhood Stientje became active in the world of vocalism. Already at the age of five-year she appeared in children-operettas. Next she became also member of the choir - initial at the youth department - where the conductor Jan Smit gave her the first real lessons in music.
In 1952 she married to Jaap Deutekom, a talented pugilist, and also a member of the 'spare' choir of the 'Nederlandse Opera'. Later on Jaap Deutekom engaged himself nearly all the time with escorting of Christine Deutekom on her tours abroad. After following lessons during a period of five year by Johan Thomas, Christine Deutekom went to the conservatory, where she got lessons by Coby Riemersma and Felix Hupka.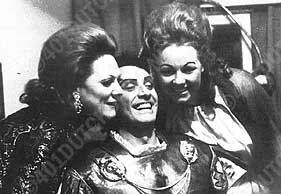 On the second day of Whitsuntide 1963 Christine Deutekom made her debut at the 'Nederlandse Opera' as 'Queen of the night' in Mozarts ,,Zauberflöte". Within as few years she came to stay with her great voice a place next to the world most famous primadonnas. Her name she has changed meanwhile from Christine to Cristina on advice of her manager Rudi Rothenberg, because 'Christine' isn't prenouncable for Italians. She first appeared in Munich, Frankfurt, Barcelona and Milan, afterwards also outside Europa, namely at the Metropolitan Opera in New York, 1969. After the performance of Mozart's 'Die Zauberflöte' the New York Times called her the greatest 'Queen of the night' for this time. Already in October 1968, when she appeared in the London opera house 'Covent Garden', the authoritative magazine ,,Opera": ,,Except Maria Callas in her glance period, we hardly had heard something of equal quality before". After her debut at the Opera in Venice she got the charming nickname "Dutch Nightingale". The first years it were mainly roles from Mozarts operas who fixed her repertoire, after a short time Cristina changed over to the dramatic roles from the Italian repertoire and also that mountain was climbed with success. She celebrated, again in Italy, triumphs in roles as Elvira in Bellini's,,I Puritani" and further the got attention with the title role in Donizetti's ,,Lucia di Lammermoor". In brief, the world turned out to hear Cristina , as well in ,,Norma" as in operas of Rossini and Verdi.
Cristina Deutekom had sung at almost all the important opera stages of the world, such as Vienna, Munich, London, Paris, Buenos Aires, San Francisco and in Italy in Bologna, Roma, Venezia, Firenze, Trieste a.o.
Cristina Deutekom appeared with famous colleagues, as Placido Domingo - together with him she sang in 1976 again at the MET for the first opera of the season in Verdi's 'I Vespri Siciliani' -, Franco Corelli, José Carreras, Luciano Pavarotti, Alfredo Kraus, Bruno Prevedi a.o. and sang under conductors as Carlo Franci, AntoninoVoto,Mario Rossi, Riccardo Muti, Nello Santi, James Levine, Bruno Bartoletti and George Solti.
The Italian composers where preferred to her: Verdi, Bellini, Donizetti and Rossini and she shined in the major roles in Il Trovatore, I Puritani, Nabucco, Norma, Turandot, Macbeth and Medea. After a series of triumphal successes as Abigaile from Verdi's Nabucco in Canada she was honoured to freeman of the city Winnipeg in 1981.
In 1985 , because of a heart attack, she ended her career. She worked yet on radio programs, the 'Cristina Deutekom Concourse' and she also gives singing lessons to much promising students. Recently, 1997 - at an age of 66-year - she has recorded a cd 'Regina', with the final acts of three 'Tudor Queens' out of operas from Donizetti. A remarkable achievement. For some years Cristina Deutekom gives national and international master classes, a.o. Bergen Holland Music Sessions, The Hague, Amsterdam, Rotterdam and in the USA San Diego, Washington, Atlanta and Houston.
Cristina Deutekom joined this moment as guest-teacher to the Royal Conservatory at The Hague.
Mozart, Der Hölle Rache Cristina , 1969
Cristina Deutekom - O luce, di quest'anima (fragment)
Cristina Deutekom - "Der hölle Rache"