Jo Vincent - Biography & Reviews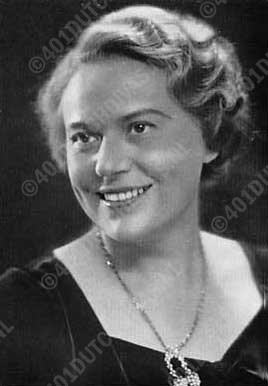 Psalms & Religious song - The 'Jo Vincent Quartet'
Jo Vincent download catalogue with mp3 samples

"This now is the perfect soprano voice, a slim tone that floats above the material, a tone that has body en rounding,a use of voice of nearby instrumental character... we talk about Jo Vincent in the cooperation with Willem Mengelberg."
Luister, mei 2000
" ....this was a art of singing of the highest level,of a touching perfection as we seldom hear...."
Lex van Delden ,Parool januari 1948.
Ever since she was a baby, oratorio-vocalist Jo Vincent, born as Johanna Maria Vincent on the 6th of March 1898, was immersed in music.Her father was a carillonneur in Amsterdam, where he gave his recitals on the Dam-square, and her mother used to sing self made lyrics to sections of different operas. The first to shape Jo Vincent's young voice, when she was a child, was Catherina van Rennes, who gave her her first singing lessons in the apartment over the well known New Music store on the Leidsestraat in Amsterdam. At the mere age of five years the soprano displayed strong ambitions to be a singer and van Rennes did have nothing but praise for her enthusiastic pupil. Later on, Jo Vincent also studied with Cornelie van Zanten. In 1920, Jo Vincent gave her first concert in the town of Assendelft in a village inn and in 1923 she performed with the "Concertgebouw Orkest" for the first time,which was conducted by Cornelis Dopper. Two years later, in 1925,she made her debut at the Concertgebouw in Amsterdam and was conducted by Willem Mengelberg, with whom she was to work many times after that.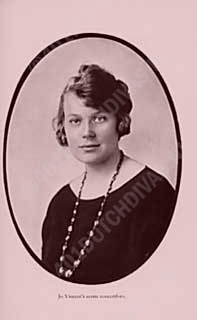 After seven years, she sang her first solo's of the Matthews Passion - conducted by Willem Mengelberg - on which she commented the following: "Of the performance I only remember one thing: the bass positively begged me to meet with him before the concert. If I refused to do this, he would disrupt our duet. Even at that time threats did not frighten me and I refused. The duet was never disrupted.!" Vincent was mostly a singer of oratorio- and passion music (by Mahler, Bach, Schubert, Wolf and more); one of her favorite pieces is the beautiful 'Magna Res est Amor' of the Dutch composer Hendrik Andriessen. Her bright voice and the warm humanity of her unaffected performances turned her into one of the most adored vocalists in the Netherlands. She was not part of the elitist society and certainly did not seek to be; she was very natural and her lack of pretension made her even more popular with the public. Sometimes she and alto-singer and longtime friend Theodora Versteegh joined in a duet. One time, in order to extend a holiday spent in Bergen aan Zee, Vincent arranged to give a concert in a church there and at this spontaneous event she met her husband-to-be: a mere year later they were married.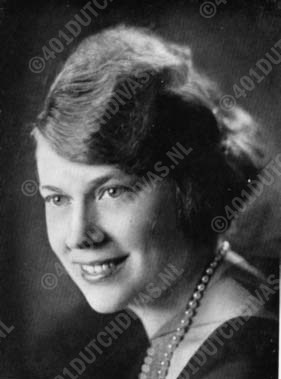 Although she was forced to prematurely end her career on the 30th of March 1942 as a result of the war, she returned and made a successful comeback when the war was over.Her popularity was felt in all of Western Europe.
In 1953 she officially retired but continued to perform at times. This same year she made an interesting remark on the schooling in the Hague she had had in order to become a teacher of solo-singing and for which she passed the exam when she was twenty years old: "How strange..., now that I am 55 years old, I am finally beginning to understand how to sing, but when I was only 20 years I was already certified to teach others to sing." She gave her last concert close to home at the concert hall of Haarlem.
She died 28 November, 1989 in Monte Carlo at the age of 91.
•
RECENSIES
Jo Vincent gaf prachtig liederenrecital
Men kan het slechts betreuren dat Jo Vincent zo zelden optreedt. Ieder, die deze volmaakte sopraan Woensdagavond in de tot de laatste plaats bezette kleine zaal van het Amsterdamse Concertgebouw hoorde, zal dit beamen. Want dit was zangkunst van de allerhoogste orde, van een ontroerende volkomenheid, als wij zelden meemaken.
Men kent Jo Vincent's stralende geluid; in de twee groepen prachtige liederen van Wolf, die zij na de pauze zong, bemerkte men, dat deze grote, technisch vlekkeloos beheerste stem behalve stralend ook ongelofelijk teder en verstild kan zijn. De gehele scala van uitdrukkings mogelijkheden werd hier in uiterste perfectie toegepast. En wat meer is; dit alles werd gedragen door een sterke persoonlijkheid, die zich steeds wist in te leven in de inhoud en de sfeer der liederen.
Men was dan ook voortdurend in de ban van deze waarlijk grote kunst; het publiek bracht Jo Vincent en de pianist Gerard Hengeveld, die haar wat nuchter begeleidde, ovatie op ovatie. Enkele liederen van Wolf kreeg men als toegift.
LEX VAN DELDEN (Donderdag 15 januari 1948 - Parool)
•
Mahler: Symfonie nr. 4 in G
Jo Vincent (sopraan), (Koninklijk) Concertgebouworkest o.l.v. Willem Mengelberg (Philips 426108-2)
In de serie Legendary Classics bracht Philips opnieuw de unieke uitvoering onder Mengelberg van Mahlers vierde symfonie uit. [....] Gelukkig is Jo Vincent hiermee ook weer in voor haar karakteristiek repertoire vertegenwoordigd en de combinatie Mahler-Mengelberg blijft uniek - al kwam er in de uitvoeringen steeds meer Mengelberg en wat minder Mahler om de hoek kijken. Een must voor iedere Mahleriaan. (ADD - 57') -
Luister mei 1990 recensent Cornelis van Zwol
•
Legendary Voices: Jo Vincent.
BACH: Matthäus Passion, de drie aria's met recitatief + duet (met Ilona Durigo, alt). BRAHMS: Ein Deutsches Requiem 'Ihr habt nun Traurigkeit'. MAHLER: sympfonie 4 'Wir geniessen...'. Liederen van BEETHOVEN, BRAHMS, CHAUSSON, GRIEG, LISZT SCHUBERT, SCHUMANN, TSJAIKOVSKI,WAGNER EN WOLF JoVincent (sopraan), Felix de Nobel (piano), Toonkunst A-dam; Concertgebouworkest o.1.v. Willem Mengelberg.
Decca 464 5220-2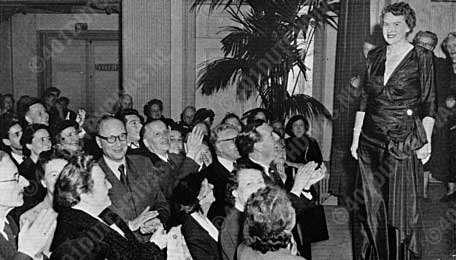 Dit is toch wel de volmaakte sopraanzang! Een slanke toon die boven de materie zweeft, maar daarmee voortdurend contact houdt in een volmaakte egalisatie van registers; een toon die body heeft en ronding; een stemvoering van haast instrumentaal karakter, die de vertolkster in staat stelt prachtige frasen te maken. We hebben het hier over Jo Vincent in haar samenwerking met Mengelberg. De Matthäus, Mahler IV en Brahms' Requiem verschenen al meermalen op cd; nu heb je de delen met de sopraan allemaal hij elkaar. [.......] De rij fragmenten ervaar je, omdat toonaarden prachtig aansluiten en de pauzes kort gehouden zijn, als een liederen-cyclus. Op de onderhavige dubbel-cd hoort u tevens twee liederenrecitals, beide van later datum. De eerste betreft een commerciële opname voor Philips uit 1952, en geeft een bonte verzameling van'beliebte Lieder'. De stem is wat donkerder geworden en nog heel fraai; het uitbalanceren van de registers verloopt wellicht iets trager; maar is groots als voorheen.[....] Het recital van een jaar later - vlak voor haar afscheid - komt uit de radioarchieven. Ten opzichte van het jaar daarvoor is een behoorlijke neergang te constateren. [....] De stem is grotendeels nog prachtig, maar in het midden komen er wat problemen. Schuberts Verklärung klinkt minder fris dan de versie die lerares mevr. Noordewier op haar zestigste nog gaf. [....] Ondanks vele prachtige momenten is de nagedachtenis van JoVincent met dit laatste recital niet gediend.....
Voor een welkome aanvullende impressie zij overigens gewezen op de recente dubbel-cd 'The great Dutch soprano', op BelArt (BEL 6015). Het gaat daar om een ratjetoe *) van vooroorlogse radio-opnamen zonder degelijke documentatie; er blijkt eens te meer hoe mevrouw Vincent in haar gouden jaren een 'jonge-meisjesklank' cultiveert, dat ze zich er echter voor hoedt deze klank registermatig te isoleren, zoals je zo vaak aantreft!
Recensie Luister mei 2000, recensent Frans Lambour
*) tevens horen wij op deze verzameling - wat deze dubbel cd extra waardevol maakt - Jo Vincent in duet met Louis van Tulder, tenor (4x) en in duet met Theodora Versteegh, alt, eveneens 4x. Bij Mendelssohn's Sonntag Morgen wordt geen opgave gedaan van de andere zangeres. Voor de hand ligt dat ook dit Theodora Versteegh is. J.L.
•
'Stemmen, verzameld door Paul Korenhof', NCRV 394624
.........De 'bonustrack' - een uivoering van Beethoven's Ah, perfido - hangt er - zoals PK toegeeft - als los zand bij. Dat klopt als je kijkt naar het repertoire; als aanvulling op een tijdsbeeld van zangminnend-Nederland is deze track ook op deze plaats zeer welkom. [....] Jo Vincent, van wie nog erg weinig op cd verschenen is (net zo min als van andere heel grote Nederlandse zangers uit die tijd, zoals Willem Ravelli en Elisabeth Ohms). Graag wil ik overigens in dit verband de aandacht vestigen op de onlangs uitgekomen cd-heruitgave van de indertijd een zeer breed publiek aansprekende uitvoeringen van geestelijke liederen (o.a. bundel van Johan de Heer en hervormde bundel '38) door het zogeheten Jo Vincent-kwartet (Jo Vincent, Theodora Versteeg, Evert Miedema, Willem Ravelli): nog steeds voorbeelden van kwartetzang (EMI 4946612).
Jo Vincent bezat wat we in opera-termen zouden noemen een Mozart/Strausssopraan, en wel één van zeldzame schoonheid, warm-instrumentaal van benadering en rijk aan boventonen - de ideale Arabella-stem; ze zong echter praktisch geen opera. De dramatische passages van Beethovens hier opgenomen concertaria Ah! perfido klinken - daarom? - wat onwennig, maar zeker niet onmachtig. De langzame delen zijn echter o zo fraai en prachtig van lijn; ze bereikt daarin, samen met Eduard van Beinum, een magie, die ik in geen van de andere mij bekende uitvoeringen aantref. De klank van deze bonustrack is nogal wisselend van kwaliteit, maar in het algemeen heel behoorlijk.......
Recensie ' Luister, oktober '98, recensent Frans Lambour
een reactie:
.........As a bonus track there is a recording of a broadcast from AVRO on 25 May 1941 of Beethoven"s Concert Aria "Ah Perfido" by Jo Vincent with Van Beinum and the Concertgebouw Orchestra.The transfer is rather gritty, with quite a lot of surface noise, but this does not detract from what is a superb performance with Vincent in fine voice and V.B. *) also in great form. I hope this information will be of interest. I shall look forward to future updates and many more pleasant hours browsing through your most rewarding website. Best wishes, Raymond Wood
*) Eduard van Beinum