Pauline de Haan-Manifarges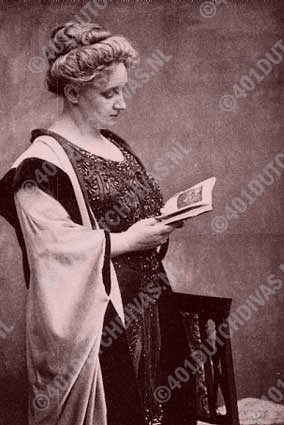 The contralto Pauline de Haan-Manifarges was born in Rotterdam on 4 April 1872. Her first music lessons she received at the music-school 'Maatschappij tot bevordering der Toonkunst' (Musical Society ). First piano lessons with Van der Sandt and then - when her real ability and interest became evident - singing-lessons with L.F. Brandts Buijs. She continued her singing-lessons with Paul Hasse (Haase), who joined in those days the 'Duitse Opera' (German Opera) in Rotterdam. She finished her study with Julius von Stockhausen in Frankfurt at the Main. She made her debut in Frankfurt with a performance of Schumann's 'Paradies und Peri'. Pauline de Haan belonged to one of the most important concerto-altos of her generation. For years she sang under Mengelberg in the Matthäus Passion, the Ninth Symphony of Beethoven and other concert-works. Also Mahler was at her repertoire, the alto-soli in the Second and Third Symphony, the alto-part in Verdi's Requiem, but also modern work as lieder of the Dutch composer Alphons Diepenbrock she has interpreted. She appeared as duo often with her famous colleague the soprano Aaltje Noordewier-Reddingius, accompanied by Anton van der Horst; on the stage she is never been. The artist appeared also many times with lots of success in Germany, French, Austria, Switzerland and Britain. However, the main part of appearances took place in the Netherlands. Also at he court of Queen Wilhelmina she has sung a few times and was honoured with the 'Ere medaille voor Kunst en Wetenschap'.
In 1907 appeared a few recordings on the label Odeon, at two of them she was accompanied with the famous violinist Carl Flesch.
Amsterdam, 19 oktober 1904
[AUDIO]Mendelssohn, from Paulus: 'Doch der Herr vergisst der Seinen nicht', 1907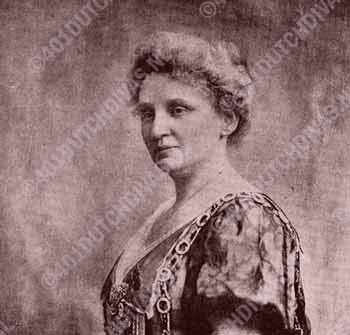 A famous soloists-ensemble of the Matthäus Passion:
fr..left to right A.van Rooy, Th. Denijs, W.Mengelberg, P. de Haan-Manifarges, A. Noordewier-Reddingius en J.Messchaert.