Theodora Versteegh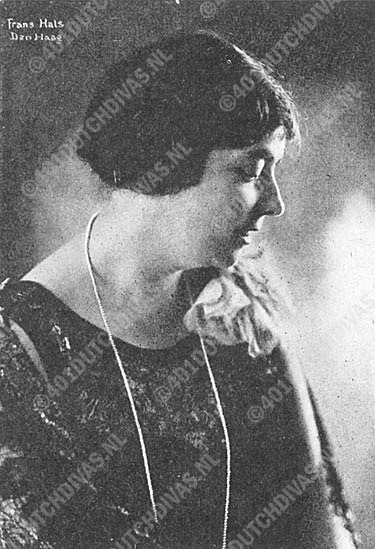 Theodora Versteegh was born on 13 December 1888 in Kerk Avezaath, a hamlet nearby Tiel. Already at a youthful age she showed a promising affinity for music. In the beginning she studied piano with Sem Dresden (Dutch composer/conductor) in Tiel, but in the long run singing study attracted her more. Later she studied with Cornelie van Zanten and Tilly Koenen.
She made her oratorio debut in 1914 in Joshua (Händel). She performed +/- 250 times the solo party in the St. Matthew Passion. She also was a lieder singer and regularly to hear on stage abroad. She possessed a wide oratorio repertoire and performed under famous directors as Bruno Walter, Willem Mengelberg, Eduard van Beinum, Anthon van der Horst, Pierre Monteux, Gabriel Fauré, Zoltan Kodaly, Florent Schmitt, Carl Straube, Johan Schoonderbeek, Evert Cornelis, M.A. Brandts Buys and Lodewijk de Vocht. She sang together with the soprano Jo Vincent, tenor Evert Miedema (later, tenor Louis van Tulder) and baritone Willem Ravelli in a quartet - the "Hollandsch Vocaal Kwartet", also known as the "Jo Vincent Kwartet". Farewell on an age of 60-years with works from Dutch composers as Dresden, De Vocht, Pijper , Bordewijk-Roepman and Schouwman.
Theodora Versteegh died on 20 October at The Hague. She made several recordings for the label Columbia, many of the recordings together with soprano Jo Vincent and with the already mentioned Jo Vincent Quartet.
DDR 0803 - Theodora Versteegh - contralto (1888-1970)


Songs, arias and duets with Jo Vincent (sopr.) from Bach, C.van Rennes and others

01-Mendelssohn, Aria van den Engel, Sei stille dem Herrn:
, Columbia D 17169, 1927
02-Bach, Cantate BWV 169, Gott soll allein mein Herze haben, 1940
03-Bach, Kommt Seelen, dieser Tag, Columbia D 10042
04-Bach, Komm susser Tod, Columbia D 10042
05-Händel, Arioso, Dank sei dir Herr, Columbia D 17216
06-Franck, Panis Angelicus, Columbia D 17216
07-Trad., L'ange Gardien
08-C.van Rennes, Het angelus klept, Columbia D 9876
09-C.van Rennes, Lente, Columbia D 9876
10-Bach, Liebster Heer Jesus, wo bleibst Du so lange:
, Columbia D 10043
11-Bach, Jesus, unser Trost und Leben, Columbia D 10043
12-Oud-Boheemse melodie, Columbia D 9877
13-Trad., De kleinste, kwartet, Columbia D 9877
14-Gluck, Aria-J'ai perdu mon Euridice, Columbia D 17183
15-Durante, Aria-Vergin tutto amor, Columbia D 17183
16-Psalm 95, Want in Uwe Hand, Columbia D 9879
17-Appeldoorn, Dina, Bretagne, Columbia D 9951
18-C.van Rennes, Zingen, Columbia D 9950, 1929
19-C.van Rennes, Engelenwacht, Columbia D 9950
20-C.van Rennes, Goeden nacht:
, Columbia D 9951
21-C.van Rennes, Kerstnacht, Columbia D9880
22-Trad., In Sternennacht, Columbia D 10044
23-Mendelssohn, Sonntagmorgen:
, Columbia D 10044
tracks 7, 8, 9 & 12 and 16-23 with Jo Vincent; 13 with Jo Vincent Kwartet: Jo Vincent (sopr.), Theodora Versteegh (alt), Evert Miedema (ten.) & Willem Ravelli (bas)
DD Records
order number CD: DDR 0803
price per cd: Euro 14,95 (exclusive postage costs)
order