Maartje Offers
Maartje Offers was born on 27 February 1891 in Koudekerk at the Rhine, nearby Alphen at the Rhine. Her father was a butcher and moved on later to The Hague. She was the youngest of six daughters, later appeared a son. In The Hague the people spoked about the "handsome daughters of butcher Offers". One member of the family told, that already shortly after her birth, Maartje has so a powerful voice, that when she cried, people could hear it on the other site of the river Rhine. Maartje Offers's voice was discovered at an early age by some Mr. van Ramshorst.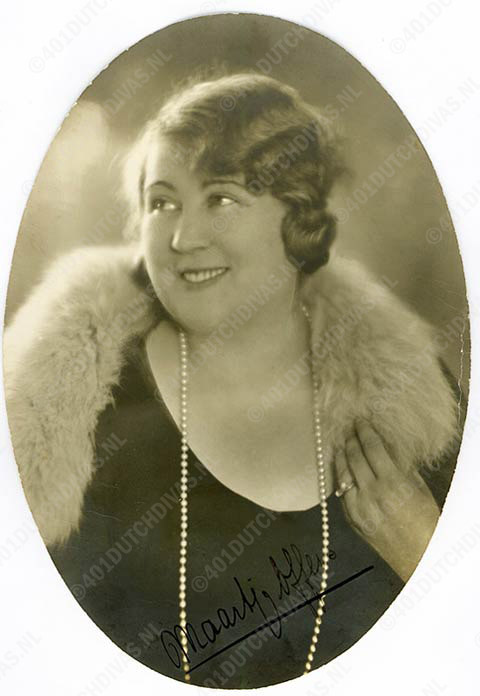 Photo from private possession, by kindly courtesy of Mrs. Alletta Brouwer-Van der Heyden.
'Letty', was in those days - 1943 - pupil of Maartje Offers. Her mother has accompanied 'Mrs.Maartje' at the piano.
Maartje Offers studied in The Hague under Arnold Spoel and Mrs. Hekking and in Rotterdam under the contralto Pauline de Haan-Manifarges. As early as 1910 she gave her first church concert and in the years following she seemed destined for a career as an oratorio singer. To everyone's great surprise she was offered a contract by the Opera Francaise in The Hague in 1917 where she first appeared in the role of Dalila. She remained there for the following two years until the theatre's closure. In all the long years of this opera house's existence Offers was one of the very few Dutch singers to have sung there; this is all the more remarkable as she was still unknown at that time. From 1919 on she appeared with a series of shortlived Dutch opera companies as Dalila, Ortrud, Amneris, Azucena, Magdalene in "Die Meistersinger von Nürnberg", Adriano in "Rienzi", and Maria Magdalena in the Dutch premiere of d'Albert's "Die Toten Augen". With one of these troupes she made her debut at the Opera in Paris as Dalila (with Jacques Urlus) and was complimented on her performance by the venerable composer. In 1923, when yet another Dutch opera company had gone bankrupt, some singers joined a group of Italians who had just finished their stagione in the Netherlands. Here Offers sang for the first time in Italian and her Azucena so impressed the baritone, Lorenzo Conati, that he advised her to go to Milan and start a career in Italy. So she did and Arturo Toscanini, who she was sing for, was so impressed by her voice, that he engaged her immediately for a period of three years at the Scala. She became six weeks to study six roles in Italian, which she succeeded gloriously.
This she did and was immediately engaged by La Scala in Milan for the 1924/25 season when she appeared as Fricka in "Rheingold" and "Walküre". It is not true, however, as is maintained in the "His Master's Voice" catalogue that Arturo Toscanini put on "Samson et Dalila" especially for her. 1) The opera was not on the Scala's playbill during the years 1924-26 and the "Ring" which HMV claims she sang under Toscanini was conducted by Vittorio Gui. She never sang under Toscanini's direction. Offers performed in Italy for about three years, mainly at the Teatro La Fenice in Venice. Around 1927 she returned to the Netherlands, but soon was discovered by Sir Thomas Beecham who engaged her for a concert tour of Australia and England. The soprano of this troupe was Eva Turner. Offers was also to become the leading contralto of a new Beecham Opera Company, but this project failed to fruit. In 1926 she sang the contralto solo in Mahler's 2nd Symphony under Willem Mengelberg. Then suddeny she suffered a lull. She returned to the Netherlands, where appearances were only sporadic. Significantly, her last operatic performance was one of the eight Valkyrie (for the Amsterdam Wagner Society in 1936). Her last public appearance took place in 1940 in a concert at the Spa hotel at Scheveningen, where she sang an aria from "Samson et Dalila" and one from "La Reine de Saba" by Gounod. 2) During the last 15 years of her life she taught singing, but none of her pupils made notable careers. In World War II she was evacuated from The Hague to the island of Tholen where she died on January 28th 1944. She was buried in The Hague.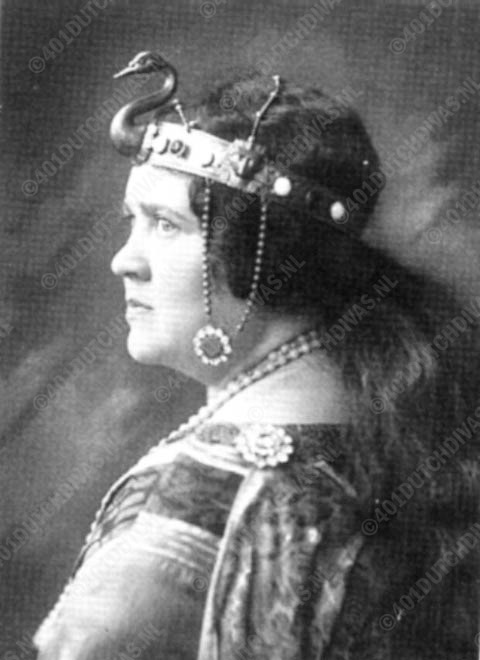 Offers's career was one of those which, after a promising start, came to a sudden halt. Despite her impressive chest notes, in Handel's "Ombra mai fu", for example, she was not a genuine contralto but rather a dramatic soprano with a well-developed lower register (like Celestina Boninsegna). Other reasons for her decline may have been a certain lack of temperament on stage and her -even for those days - heavy-weight figure. Offers's first records were issued by Artiphon under the name of Maartje van der Meer-Offers, as she called herself until her debut in Italy. For a short time she was married to a Mr van Buuren, a lawyer and amateur conductor who even conducted some of her records and for a while was the director of the Italian Opera in the Netherlands. By 1928 already, she was officially signing M. Eigenmans-Offers. In Italy she became a Red Label star of "His Master's Voice", making several acoustic recordings of arias and duets from "Rienzi", "II Trovatore" (with Pinza, among others), "Aida" (duet with Poli-Randacio), "Mignon", "Samson et Dalila", etc. Her electric recordings (also issued on the Red Label) date from the time of her years in London when she was singing under Beecham. The only exception was the Waltraute-scene from "Götterdämmerung"; a recording which clearly shows the soprano character of her voice - in some passages Brünnhilde sounds even darker than Waltraute! The titles from "Il Trovatore" and "Don Carlo" with Barbirolli demonstrate how positively a good conductor could influence her singing: she shows much more fire and temperament. Other recordings include arias from "Carmen" (a role which she never sang on stage) and various songs - among them some songs by Dutch composers - and even one from Elgar's "Sea Pictures".
Leo Riemens
1) Maartje Offers sang in 1924 to Toscanini, who was so delighted about her voice that an engagement to the theatre immediately followed.
2) Maartje Offers appeared twice as 'Rossweisse' in Wagner's Valkyrie, 16 May 1935 under Kleiber (the Wagner Society performance) and second time 8 June 1939 under Heinz Tietjen. Her last appearance was as Azucena in Verdi's Il Trovatore in a performance of the 'Nederlandsch Opera Ensemble' at 1 Dec. 1940 in Theatre Carré, Amsterdam.