Julia Culp Reviews
"You might describe Julia Culp as a connoisseur's singer. Her voice was not large, her compass not wide. She never sang in opera; striking dramatic gestures were not her line. What she excelled in were the singer's rather than the vocal actress's virtues: sustained legato line, remarkable breath control, subtle colour, immaculate care for words….But 'connoisseur's singer' does not mean that only connoisseurs can appreciate her; one becomes a connoisseur by listening to her."
- Michael Oliver, INTERNATIONAL OPERA COLLECTOR, Autumn, 2000
Julia Culp cd 1, The Berlin Recordings 1906-1914 - DDR 0701
01-Wolf, Weylas Gesang, piano Erich Wolff (1-9), Berlin December 1906, Odeon
02-Brahms, Feldeinsamkeit
03-Wolf, Verborgenheit
04- Van Rennes, Wiegeliedje
05-Hullebroeck, Moederke alleen
06-Schubert, Du bist die Ruh'
07-Schubert, Nacht und Träume
08-Loewe, Der Asra
09-Rubinstein, Es blinket der Tau
Robert Schumann, Frauenliebe & -leben, Berlin spring 1910, piano Otto Bake (10 -17), Odeon
10- Seit ich ihn gesehen
11-Er, der herrlichste von allen
12-Ich kann's nicht fassen
13- Du Ring an meinem Finger
14-Helft mir, ihr Schwestern
15-Süßer Freund, du blickest mich verwundert an
16-An meinem Herzen, an meiner Brust
17-Nun hast du mir den ersten Schmerz getan
18-Schubert, Ave Maria, piano Otto Bake (18-21), Berlin 1911, Anker
19-Schubert, Du bist die Ruh'
20- Mendelssohn, Auf Flügeln des Gesanges
21-Chopin, Meine Freuden
22-Brahms, Sapphische Ode, piano Coenraad Bos (22-24), Berlin September 1914, HMV
23-Wolf, Heimweh
24-Brahms, Muß es eine Trennung geben
Julia Culp cd 2, The USA Victor recordings 1914-1917 - DDR 0702
01-Wagner, Träume, orchestra Rogers, HMV 2-043009
02- Calcott, Drink to me only with thine eyes, orchestra Rogers, Victor 64401
03-Brahms, Wiegenlied, piano Coenraad Bos, HMV DA151
04-Folk song, Auld lang Syne, orchestra Rogers, Victor 64418
05-Boulton, All through the night, orchestra Rogers, Victor 64414
06-Rogers, At parting, piano Coenraad Bos, Victor 64441
07-Horn, I've been roaming, piano Coenraad Bos, Victor 64404
08-Weckerlin, Mignonette, piano Coenraad Bos, HMV DA152
09-Schubert, Heidenröslein, piano Coenraad Bos, Victor 64396
10-Mendelssohn, O Rest in the Lord, orchestra Rogers, Victor 74427
11-Schubert, Ständchen, orchestra Rogers, Victor 74431
12-Lieurance, Lullaby, orchestra Rogers, Victor 64491
13-Schubert, Ave Maria, orchestra Rogers, Victor 64489
14-Saint-Saens, Samson et Dalila, Printemps qui commence, orchestra Rogers, Victor 74430
15-Saint-Saens, Samson et Dalila, Mon coeur s'ouvre a ta voix, orchestra Rogers, HMV DA152
16- Schubert, Im Abendrot, orchestra Rogers, Victor 64492
17- Folksong, Beethoven, Faithful Johnie , orchestra Rogers, Victor 74429
18-Folksong, Beethoven, The cottage maid, orchestra Rogers, HMV DA153
19- Schumann, Mondnacht , piano Coenraad Bos, Victor 64554
20-Händel, Dank sei dir Herr, orchestra Rogers, Victor 74462
21-Purcell, Passing by, orchestra Rogers, Victor 64551
22-Old-Dutch, Gelukkig vaderland, orchestra Rogers, HMV DA153
23-De Lange, Dutch serenade, piano Bos, harp F.Lapitino, Victor 64552
Nrs. 1-9, Jan, Feb, & March 1914; 10-23, March & Dec.1915
Julia Culp cd 3, Victor & Electrola recordings 1915-1926 - DDR 0712
01-Schubert, Du bist die Ruh', orchestra Rogers, Victor 74461
02- Brahms, Immer leise wird mein Schlummer, piano Coenraad Bos, Victor 64553
03-Kreisler, Cradle song, piano Coenraad Bos, Victor 6359-B
04-Bayley, Long, long ago, orchestra Rogers, Victor 64419
05-Romberg, Auf Wiedersehen, orchestra Pasternack, Victrola 74523
06-Reger, Mariae Wiegenlied, piano Coenraad Bos, Victor 64683
07- Debussy, Nuits d'etoiles, piano Coenraad Bos, Victor 64676
08-Kreisler, The old refrain, orchestra Pasternack, Victor 64667
09-Molloy, Love's old sweet song, orchestra Pasternack, Victrola 6067
10- Irish folksong, Bendemeer's Stream, orchestra Pasternack, Victrola 64720
11-Danks, Silver threads among the gold, orchestra Pasternack, Victrola 6067
12-Gruber, Stille Nacht, heilige Nacht, orchestra Rogers, HMV DA151
13-Lieurance, By the waters of Minnetonka, orch. Pasternack, harp Lapitino, Victor 64721
14-Schubert, Ave Maria, String quartett & harp, Rosario Bourdon, Victor 569
15-Liszt, Es muss ein Wunderbares sein, piano Michael Raucheisen, Victor 1041
16-Mendelssohn, Auf Flügeln des Gesanges, piano Michael Raucheisen, Victor 1041
17-Kreisler, Cradle song, piano Michael Raucheisen, Victor 6359-B
18- Schubert, Der Lindenbaum, piano Fritz Lindemann, Electrola EJ41
19-Schubert, Der Tod und das Mädchen, piano Fritz Lindemann, Electrola EJ41
20-Schumann, Der Nußbaum, Electrola, piano Fritz Lindemann, EW 8
21-Schumann, Du bist wie eine Blume, piano Fritz Lindemann, Electrola EW 9
22-Wolf, Verborgenheit, piano Fritz Lindemann, Electrola EW 8
23-Brahms, Feldeinsamkeit, piano Fritz Lindemann, Electrola EW 9
1-13, March-May 1917; 14-17 March 1924; 16-21 May 1926
DD Records
order numbers cd's: DDR 0701, DDR 0702 en DDR 0712
price per cd: Euro 14,95; per 2 cd's 24,95 (exclusive postage costs)
Lieder of the "Dutch Nightingale", article from "Opzij", a Dutch feministic monthly magazine. October/November 2000 with reference to the release of the following double CD.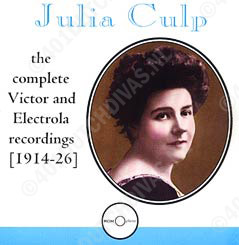 JULIA CULP: The Complete Victor & Electrola Recordings, 1914 - 1926, incl. Songs by Beethoven, Purcell, Schumann, Schubert, Brahms, Mendelssohn, Liszt, Reger, Gruber, Wolf, Debussy, Weckerlin, Lieurance, de Lange, Kreisler, Horn, Bayley, Rogers, Danks, Molloy, etc.; Arias from Isræl in Egypt, Elijah & Samson et Dalila. (England) 2-Romophone 81035. Transfers by Seth B. Winner. Elaborate booklet has full discographic data, photos & notes by Alan Blyth. 35.90, the Set.

At the 10 cd-set 'Het Puik van Zoete Kelen' (One hundred year Dutch art of singing, Philips 1999) Julia Culp already marked herself - presenting with two lieder - by the way she sang the lieder. So it is a pleasant surprise that the English label recently released a 2cd-set with all the lieder that 'The Dutch Nightingale' recorded for 'The Victor Talking Machine Company'. The set is completed with her recordings for the Berlin label Electrola. To say it briefly, a historic document.

The repertoire consists of English and Irish folk songs, a few opera-aria's and many German Lieder. With orchestra, string quartet, ones with a harp, but mostly accompanied by a piano. Julia Culp had no large voice, certainly no opera voice, but within her reach of one and a half octave, it is balanced. Here technic is of all times. There is no finery, the kernel of the tones, even in the weakest passages is clear.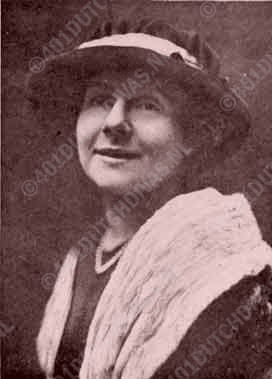 Depending to contemporaries she was a flamboyant personality. She was spiritual and knew how to enchant her public. Take for instance Schuberts well known lied 'Der Tod und das Mädchen'. The way how Julia Culp doses her voice, certain words accented, plays with the lengths of the notes is exceptionally beautiful. That all together is the secret of her art. From the noise on such old recordings and other imperfections, you are soon not aware of anymore. P.W.L (translation, J.L.)
..........."You might describe Julia Culp as a connoisseur's singer. Her voice was not large, her compass not wide. She never sang in opera; striking dramatic gesture were not her line. What she excelled in were the singer's rather than the vocal actress's virtues: sustained legato line, remarkable breath control, subtle colour, immaculate care for words….But 'connoisseur's singer' does not mean that only connoisseurs can appreciate her; one becomes a connoisseur by listening to her."
Michæl Oliver, INTERNATIONAL OPERA COLLECTOR, Autumn, 2000
Julia Culp, The Complete Victor and Electrola Recordings (1914-1926),
2CDset Romophone 81035-2
The Julia Culp cd-set is meanwhile removed from the catalog of Romophone and I don't know or the label still exists. The site is no longer reachable for some time. However ... the three cd's from DD Records are now available.
A small remark to the Romophone set and the major part of the previous Culp LP transfers: the majority of the Julia Culp 78-rpm recordings are not recorded with 78rpm, but with lower speeds, varying from 74rpm to 77rpm. Therefore her voice is in reality darker then you hear in those releases. The only exception are the 1911 and 1914 Berlins and the 1926 Electrolas. They are recorded with 78rpm, but from those recordings, only the 1926 Electrolas were released on cd (Romophone) up to now.
The 1906, 1911 and 1914 Berlins are partly (major part) present on DDR 0701, including Frauenliebe und Leben, 1910. A part (23) of the Victor's are released on DDR 0702, more Victor's(16) are released on DDR 0712, as well as the 6 Electrolas.
The Victor and Electrola recordings 1914-26
2 CD(s) - Catalog No: 81035
81035 Julia Culp
The complete Victor and Electrola recordings (1914-26)
" ... We do not hear singing like this anymore. As an emblem of vocal style, this generous two-disc set perfectly demonstrates the plentiful use of portamento, straight tone and what today would be considered excessive rubato that can be heard on many recordings from the first two decades of the last century. Exemplary program notes ..."
Opera News, August 2000
"....a beautiful voice, welll captured on record, finely reproduced in these transfers, and exceptional in the evenness of its production. ......To learn to sing Lieder you could not do better than with Culp ..."
John Steane, Gramophone, September 2000
" ... This 2-CD set of all of Julia Culp's Victor recordings and six electric Berlin Electrolas is a real treat . The Dutch contralto, for she was a contralto despite her often sounding like a lyric mezzo, was a singer of grace and refinement, and her consummate artistry is well displayed in these records. The transfers are by the American, Seth Winner, and are fine. Don' miss it ..."
Norman Linnell, Classical Express, June 2000
" ... I will play selections from this set many times in the future ..."
Frank Behrens, Entertainment Times, May 2000
" ... The two-disc set features Culp's series of recordings made for Victor in the USA from 1914 to 1917. She returned to Victor for four more titles. Finally there is the small but invaluable group of recordings made in 1926 for Electrola using the electrical process just introduced. The set has been restored in new digital transfers by Seth Winner and the booklet contains full discographical information, with notes by Alan Blyth ... "
International Record Review, March 2000
" ... These complete Victor & Electrola recordings 1914-1926 include 47 items.......all beautifully sung. She was a singer who had a very warm and mellifluous voice, able to float a lovely pianissimo, with excellent diction and a sense of words. I would most certainly very highly recommend these recordings to anyone who loves singing ..."
Stella Wright, The Massenet Society, June 2000
" ... Romophone's collection, a complete edition of her Victor and Electrola recordings, gives ample evidence of her virtues both in great Lieder and in lighter fare ..."
David Breckbill, BBC Music Magazine