Richard van Helvoirt-pel
" ... Richard van Helvoirt Pel, a hero-baritone in elevated style. As pupil of Julius Hey he is trained in dramatic singing and when his steadiness falls short of the mark, he tries to compensate the public ( not the conductor) with his noble, great and warm voice ... "
Anton Averkamp, 1929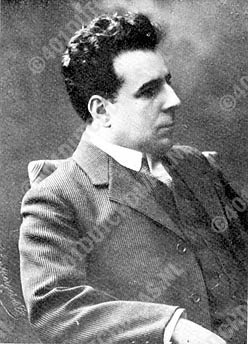 Richard van Helvoirt Pel (1873-1950)
Baritone Richard van Helvoirt Pel was born on August 28th, 1873 in Harlem. Van Helvoirt Pel - " de Pel " called by his big friend tenor Louis van Tulder - had first the intention to become a public notary but on advice of Johannes Messchaert and Cornelis van der Linden - an opera impresario - he resolved to devoted his time to the art of singing. He studied first with Cornélie van Zanten at the Conservatory of Amsterdam, afterwards at the Königliche Hochschule in Berlin with Fel. Schmidt and Julius Hey. He made his debut on stage already at a youthful age with a tiny role in the premiere of Simon van Milligen's opera Brinio, on 20 April, 1889. Jos Orelio was first baritone that time. After his study he debuted in Sopran (Hungary), joined the Opera of Kolmar and the Opera Populaire of Paris. On September 1th, 1901 he succeeded Orelio as first baritone at the Nederlandsche Opera of Cornelis van der Linden as Biterolf in Wagner's Tannhäuser.
When the Nederlandsche Opera of Van der Linden in 1903 became bankrupt, Van Helvoirt Pel departures to Germany, where he first studied at Dresden and sang there for many years, after that also with the Opera of Riga. In 1908 he appeared as guest with the Opera of Vienna, afterwards he joined the Opera of Linz (Austria). From 1909 until 1912 and during the season 1924-25 he sang minor parts in Bayreuth, such as one of the 'Brabant nobles' in Lohengrin and as 'Hermann Ortel' in Die Meistersinger.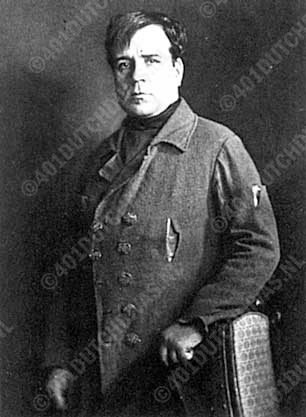 Van Helvoirt Pel as colonel Chabert in Oberst Chabert (H.W. von Waltershausen), 1917

After 1914 - at the outbreak of the Great War of 1914-1918 - he returned to Holland. He joined here from 1915 until 1919 the Nationale Opera of Koopman as first hero-baritone. He shines especial as an interpreter of Wagner roles. After the war he joined many more opera companies - it was a perpetual come-and-go of them - at last with the Co-Opera -Tie in The Hague. He performed roles as Hérode (Hérodiade), Amonasro (Aida), as well as Méphistophéles as Faust (Faust), Sebastiano (Tiefland), Scarpia (Tosca). He sang also in the premiere of Darthula (1902, Simon van Milligen). He was nevertheless known as a Wagner-singer. In 1919 he made a tour through the former Dutch colony Nederlands-Indië, now Indonesia. His final appearance was as Telramund in Lohengrin, February 10th, 1929.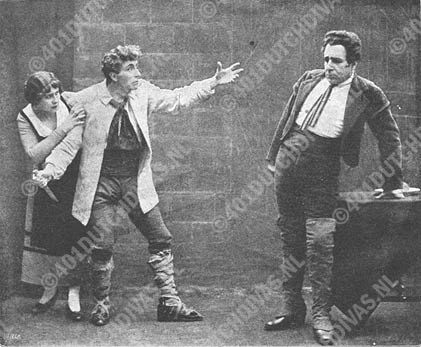 Richard van Helvoirt Pel as Sebastiano (right) in the opera Tiefland of Eugen d'Albert,
in a performance of De Nederlandsche Opera on November 21th, 1918
Annie Ligthart, soprano as Martha and Chris de Vos, tenor as Pedro

De Nederlandsche Opera van Koopman (Gerhardus H. Koopman) was an opera company active from 1916 until 1919.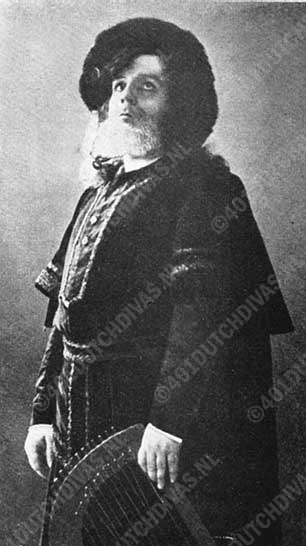 Als Wolfram in Wagner's Tannhäuser

He was one of the first singers in the Netherlands, who appeared for the Dutch radio. There exists records of him for the label Grammophon, from 1922 and all sang in Dutch.
Wagner, Tannhäuser: "O du mein holder Abendstern", 1922, sung in Dutch