Arnold van Mill
photo Godfried de Groot

Arnold van Mill was born on 26 March 1921 at Schiedam. He studied to the academies of Rotterdam and The Hague and continued his song study at Mrs. Zegers the Beyl. He became the first line "house bass" for London/Decca records in the 1950s. He wielded a virile basso cantante that displayed ample bite for Wagner while being supple enough to make him a creditable singer of Mozart bass roles such as Osmin and Sarastro. His recorded legacy attests to a perceptive artist and one authoritative enough to have been exemplary in Verdi roles had his services not been required elsewhere. He made his debut on 30 December 1941 with the role of Wagner in Gounod's Faust, in a performance of the National Opera Group in the Building of Arts and Sciences (K & W) in The Hague. In 1947, he won the Second price in the concourse of Genève.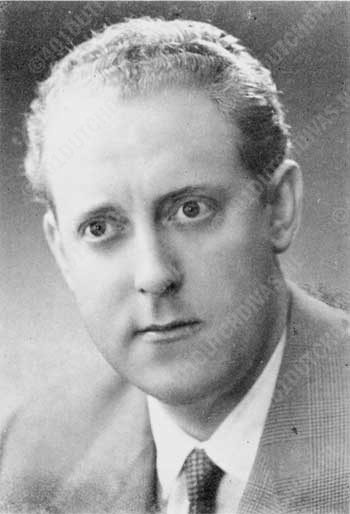 Van van Mill made his stage debut abroad at Brussels' Théâtre de la Monnaie (De Munt). From 1947 up to 1951 he joined to the opera of Antwerp. In 1951, he sang at Bayreuth the role of Hunding in Wagner's Die Walküre and from 1951 up to 1953 he joined the State Theatre of Wiesbaden. Afterwards he sang up to and including 1971 - and later also still as a guest - at the Hamburger Opera. He sang - with much success - at many opera houses, in Vienna (1959 till 1961), Buenos Aires, Teatro Colon (1958), Florenz at the Maggio Musicale (1953), Paris, Lisbon, Rio the Janeiro, San Francisco (1958), London, Glyndebourne, etc.
But fortunately Arnold van Mill acted also innumerable times in the Netherlands. In 1946, in K & W in The Hague he sang the role of Plumkett in Flotow's Martha, Raimondo in Donizetti's Lucia di Lammermoor (1946), Sarastro in Die Zauberflöte (1956 and 1957), Great Inquisitor in Verdi's Don Carlos (1957), Mephistofeles in Gounod Faust (1959), Ramphis in Verdi's Aïda (1960). Furthermore he sang in Platée (Jupiter), Lohengrin (Heinrich der Vogler) in Don Giovanni (Commendatore), Norma (Orovese), Fidelio (Rocco), etc.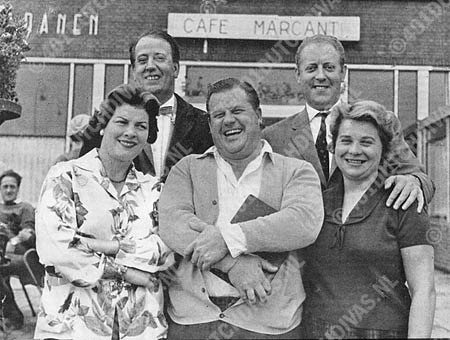 Aïda, Amsterdam Stadsschouwburg, 1960
fr. left to right: Gré Brouwenstijn, Theo Baylé, Hans Kaart, Arnold van Mill and Anny Delorie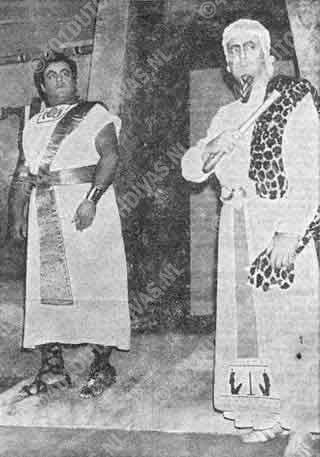 Hans Kaart as Radames and Arnold van Mill as Ramphis
Aïda, Stadsschouwburg, Amsterdam 1960

Arnold van Mill leaved behind an impressive number of recordings.
He sang on Decca: (Marke in Tristan und Isolde under Solti, Hunding in Die Walküre, Titurel in Parsifal), Melodram: Bayreuther Festspiele, highlights of Der fliegende Holländer and Das Rheingold (Fasolt), also on Cetra Opera Live (1960) and Music & Arts: Ring der Nibelungen, under Knappertsbusch.
Decca: (Ramphis in Aïda under v. Karajan, Commendatore in Don Giovanni under Leinsdorf), Columbia, Philips (Entführung aus dem Serail, Die Teufel von Loudun von Penderecki), BBC Legends: Mahler, 8th Symphony; Myto: Spontini, Agnes di Hohenstaufen, under Vittorio Gui.
Gounod, Faust: Le veau d'or