Fernand Faniard
Repertory:
Samson en Dalila, Herodiade, De Jodin, Sigurd, De verdoemenis van Faust, Faust, Monna Vanna, Antar, Alcest, De Koning van Ys, Quo Vadis, Messalin, Castor en Pollux, Der Freischütz, Der fliegende Holländer, Lohengrin, Tannhäuser, Die Walküre, Tristan en Isolde, Parsifal, Rienzi, Aïda, Salomé, Helena van Egypte, Boris Goudunov, Palestrina, Patrie, Mathis der Mahler.
Excerpts of newspaper's reports in the "Petite Gironde" from Bordeaux
" ... we can just to praise a high-class rendering in which conductor, singers and musicians, joined in same faith and enthusiasm, surpassed themselves really ... They were Mr Faniard, member of the National Avademy of Music who was by voice and style a perfect Tristan, and Mrs Geneviève Cernay whose warm mezzo-timber suits quite well for the part of Brangäne ... "
TRISTAN AND ISOLDE, February 18th 1935
" ... Entrusted to three outstanding protagonists, the rendering is really beautiful ... Those of Faust was sung by a tenor who has tuneful voice, steady way of singing and irreproachable musical qualities : Mr.Faniard, and it was Mrs. Marisa Ferrer, who holds the part of Margaretha at the Parisian Opera House, with her so brightly and full of charm performance on our first stage who won everyone's approval ... "
THE DAMNATION OF FAUST, December 16th 1936
" ... Mrs Hilda Nysa was quite outstanding in the beautiful part of Elsa ... Mr. Faniard has for his part the really done voice (however that this one is more melodious than strong) ... "
LOHENGRIN, January 23 1938
" ... Mrs. Germaine Lubin always supports with bravery the overwhelming part of Isolde ... The Tristan of Mr.Faniard has a clear and well sonorous voice answering easily to the requirements of the score ... "
TRISTAN AND ISOLDE, Februar 11th 1942
" ... Three very hard parts are sharing together in the action : the one of Helena in which Mrs.Suzanne Balguerie is always using to do... the one of Aithra...and lastly those one of Menelas which finds in Mr. Faniard an experienced interpreter ... "
HELENA FROM EGYPT, French creation, March 3rd 1944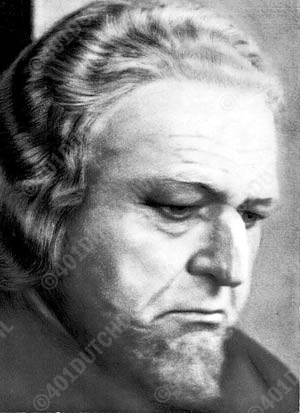 Fernand Faniard as Eleazar in La Juive (De Jodin)
Photo Jacques Strouk, great friend of the artist, Algiers
Biography:
Fernand SMEETS, called FANIARD (*1) born on 9 December 1894 in Saint-Josse-ten-Noode (Belgium).
He began his singing studies in the class of the tenor Laurent SWOLFS at the Music Academy in his native town, then he continued study at the Royal Music Academy of Brussels under the direction of Désiré DEMEST. Initially he sang for a brief period as second baritone at the Théâtre Royal de la Monnaie of Brussels as well as at Ghent, together with another novice, the tenor André BURDINO. After a while his voice range moved up to the tenor range and he began studies of tenor roles first with Éric AUDOUIN, then with TILKIN-SERVAIS (A distinguished artist at London's Covent Garden's). Developing an excellent tenor voice, he made his first appearance in 1926 at the French Opera of Antwerp in "Samson et Dalila", "Herodiade", "Boris Godunov" (A French creation), "Le Roi d'Ys" and in the creation of "Jane". He was re-engaged for the following year at the same theater..
He was engaged by the Monte Carlo's Opera for the the seasons of 1928, 1929 and 1930. Hera he created the French version of "Salome" (Herod) and "Die Ägyptische Helena" ((Menelas), both operas of Richard STRAUSS. Under the management of Raoul GUNZBOURG he undertook principal roles in such operas as "Samson et Dalila", "La Damnation of Faust", "Die Walküre" and "Boris Godunov" (as Dimitry, and partnered by VANNI-MARCOUX and Feodor CHALIAPIN in the seasons of 1933 and 1937).
Following these achievements he was engaged by Jacques ROUCHÉ, the Director of L'Opéra de Paris. Fernand FANIARD made his first appearance at the Palais Garnier's on 24 May 1930 as Samson together with Laure TESSANDRA (Dalila) in the Saint-Saëns opera.
He remained at this house for the seasons of 1931, 1932, 1933, 1937 and 1942 where in addition to interpreting the role of Samson, he was Jean in "Herodiade", Eleazar in "La Juive", Siegmund in "Die Walküre", and as Tristan, Tannhäuser and Lohengrin (with Martial SINGHER) achieving resounding triumphs in this repertoire (*2).
In 1942, together with José DE TREVI and José BECKMANS, he appeared in the French version of Hans Pfitzner's "Palestrina" as Cardinal Bernardo Novagiero. In 1949, 1950, 1951, under the direction of Georges HIRSCH he gave many performances of "Lohengrin" and "Tristan" with Suzanne JUYOL, René BIANCO and Pierre FROUMENTY, all under the musical direction of Georges SEBASTIAN.
He appeared in many important French Houses, among them, Lyon, Marseille, Toulouse, Lille, Nice, Amiens, Vichy, Rouen, Nantes, and others.. in Algeria in Algiers and Oran where he had memorable successes as Eleazar in "La Juive" and Jean in "Herodiade" all to enthusiastic sold-out audiences. He sang in Casablanca and in Belgium at Ghent, Namur, Liège and Verviers and in Switzerland at the Grand Théâtre de Genève. He also performed at the Grand Théâtre of Bordeaux where he was partnered with the famous soprano of Bareuth fame, Germaine LUBIN ("Tristan") and with André PERNET in "La Damnation de Faust".
In 1931, he sang at the Opera of Luxembourg offering the creation of "Samson and Dalila".
As a guest star at the Flemish Opera inn Antwerp he sang in many of Wagner's operas (in German) including "Lohengrin", "Tristan und Isolde", "Die Walküre", "Tannhäuser" and "Parsifal". He returned to this house in 1942 and 1943 repeating many of these roles, but this time sung in Dutch.
Ha was engaged for Wagner operas at the Opera of Frankfurt am Main in 1933, but contract was voided. Because of the political situation, the possibilities of appearances at Bayreuth ended.

In 1937, he sang at the Teatro Reale di Parma in Italy in an Italian language performance of Lohengrin. Apparently the transalpine public did not respond to what they described as .."Too academic a singing style"… (*3).
During the same year he gave exceptional performances celebrating the bicentennial of the Capitole de Toulouse singing in "La Damnation de Faust with Ninon VALLIN as Marguerite and VANNI-MARCOUX as Mephistopheles".
On March 4 and 6, 1938 in de midst of the Spanish civil war and in spite of air raids warnings, he sang at the "Liceu" (Barcelona) once again interpreting Samson with Lucienne ANDURAN as the temptress.
The declaration of war in 1939 ended engagements plans at the Colon of Buenos Aires and the Metropolitan Opera of New York. Like several other singers from occupied lands Fernand FANIARD was compelled to pursue his career only in France and Belgium,
During April and May of 1951, he sang the part of the Cardinal of Mainz in Strasburg's French creation of Paul Hindemith's "Mathis der Maler" (Mathis the Painter). Other principal artists included Rita GORR, Andine YOSIF and Roger BARSAC, all under the direction of Ernest BOUR.
An accomplished concert artist, Fernand FANIARD made prominent appearances in concerts and recitals for concerts associations as COLONNE, PASDELOUP, POULET-SIOHAN. He sang many times at the conservatories of Brussels, Tournai, Charleroi, Metz, Valenciennes and in concerts in Angers, Brest and at the Kursaal of Ostend.
Between 1935 and 1940 his voice was heard on many broadcasting stations in France (Poste Parisien, Radio Tour-Eiffel) and Radio Paris with the French National Orchestra conducted by Désiré-Émile INGELBRECHT. He was also heard from the French and Flemish institutes of Belgium and Radio-Luxembourg.
After the second world war in 1949 he obtained French nationality and as new citizen of his adopted country was heard on French National Radio with Suzanne JUYOL appearing in many programs produced by Roland MANUEL called "Music's Pleasures". These were often specially devoted to Wagnerian works, excerpts and scenes from "Tristan and Isolde" and "Siegfried". He could also be heard in "Geneviève de Paris" (Marcel MIROUZE) 1950 and Albéric MAGNARD's "Guercoeur",1951. Also of considerable interest in an unabridged version of "L'ATTAQUE DU MOULIN" (Attack on the mill) by Alfred BRUNEAU. It was given on 9 November 1952 to commemorate the 50th anniversary of the death of Emile ZOLA'S. Those two last works were preserved by the French Audiovisual Institute.
On the same radio station, and as he had already done in 1938 at the Normal School of Music (Paris) in which he amazed many experts in the genre of German works, he gave the complete "Dichterliebe" cycle of Schumann. The French composer Pierre CAPDEVIELLE performed the accompaniment. In 1951 he also performed recitals of melodies by Fauré, Duparc, Saint-Saëns, Debussy and Chausson on Radio Stuttgart and Radio Frankfurt.
He was forced to end his career in 1953 because of a major illness which resulted in his death in Paris, on 3 August 1955.
Text and translation : Raymond Smeets-Faniard under supervision of Richard T. Soper (American author of the book "Belgian Opera houses and singers").
(*1) This pseudonym's choice is a tribute to his mother's Christian name.
(*2) & (*3) Source : Algemene Muziek-Encyclopedie de Corbet/Wouter Paap/Robijns - Volume 2. Zuid Nederlandse Uitgeverij - 1958 Edition (R. Verbruggen).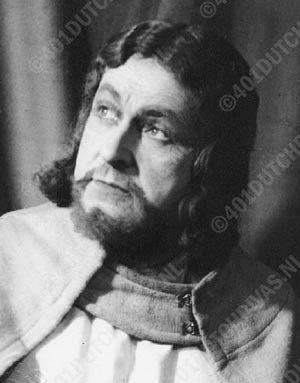 Fernand Faniard as Parsifal

N.B: Except two Flemish melodies recorded under his real name Fernand SMEETS on 78 r.p.m, Polydors others recordings of Fernand FANIARD are very rare, largely because of his pursuit of perfection, He was very reluctant to approve of the release of recordings which did not meet his very exacting standards. The only surviving recorded testimony of his art resides in preserved broadcasts as with two Radio-Algiers records miraculously rediscovered in the archives of the French National Audiovisual Institute. Sadly, we have no examples of his work in the Wagnerian repertoire, a genre for which he will long remembered.

Appendix : After the death of Ernest VAN DYCK in 1923, costumes of the great tenor were offered for sale and the whole collection was bought by Mr. FANIARD. (Tristan's coat was used for FANIARD's winding sheet).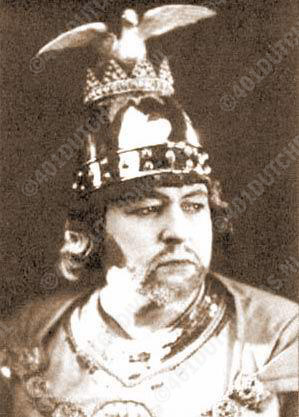 Fernand Faniard as Lohengrin
photo Studio Harcourt, Paris
Discography:
- FLEMISH MELODIES : (sung in Dutch) "Hoe lustig zweeven" [How pleasant it is to glide] (Geodel-Ottoy-Jennesky), "Het huisje bij den toren" [The little house near the tower] (J. van Laar Sr.) 1936 Polydor Serie JAP 512.673
- FRENCH MELODIES : Clair de lune (Moonlight) (Fauré) - Fleur jetée (Thrown flower) (Fauré) - Chanson triste (Sad song) (Duparc) - Le Manoir de Rosemonde (Rosemonda's manor) (Duparc) - Tendresse (Tenderness) (Bachelet) - La chanson des trois roses (The song of the three roses) (Bachelet) - Sabre en main (Sword in hand) (Saint-Saëns) - Beau soir (Beautiful evening) (Debussy) - Mandolines (Debussy) - La Caravane (The caravan) (Chausson).
Piano : Heirich BAUMGARTNER - Radio Stuttgart (06.12.1951) (Archives of the Süddeutscher Rundfunk).
- "Ah! quels tourments" (O! so what torments!) (Zémire et Azor / Grétry) - "Bannis les craintes et les alarmes" (Banish fear and frights) (Alceste / Gluck).
Orchestra conducted by : Roger ELLIS - Radio Algiers (18.08.1949) (Archives I.N.A./Radio-France).
- Dichterliebe (Poet's loves) (Schumann) Nbrs : 1. 2. 3. 4. 6. 7. 8. 10. 13. 16. (Sung in German)
- Der Doppelgänger (The double) (Schubert) Out of "Schwanengesang" (The song of the swan) (sung in German).
Piano : Pierre CAPDEVIELLE (Private record). Studio Technisonor (1950) (Archives I.N.A./Radio-France).
- "Prometheus" (Hugo Wolf) French translation by Fernand Faniard.
- "Ritter Kurts Brautfahrt" (Knight Konrad's nuptial journey) (Hugo Wolf) French translation and orchestration by Fernand Faniard (Those two works done with kind permission of HINRICHSEN EDITIONS, London, UK)
Radio-Symphonic Orchestra Strasburg.(Conductor unknown) (1950) (Archives I.N.A./Radio-France, produced on a 33 rpm ).
- "GUERCOEUR" (A. Magnard), with Marcelle BUNLET, Jacqueline DELUSSEUX, Denise SCHARLEY, Flora BETTY, Marisa FERRER, Yvette DARRAS, Bernard DEMIGNY.
Radio-Lyric Orchestra of the French Broadcasting Office conducted by Tony AUBIN (March 1951) (Archives I.N.A./Radio-France).
- "L'attaque du Moulin" (The attack of the mill) (A. Bruneau), with Jeanne ROLLAND, Hélène BOUVIER, Yvette DARRAS, Charles CAMBON, Lucien LOVANO, Jacques BOUET, Marcel HÉNOT, Bernard LEFORT, Joseph PEYRON.
Radio-Lyric Orchestra of the French Broadcasting Office conducted by Eugène BIGOT (09.10.1952) (Archives I.N.A./Radio-France).
A.Bruneau, L'attaque du Moulin, Adieu Forêt profonde, recording 9-10-1952
Interview
Career artistic of the tenor (in French)
More scene photos