Bernard Kruysen
The Dutch baritone (René) Bernard Kruysen (Kruijsen), descended from a family of artists. He was born on March 28, 1933 in Montreux, Switzerland as a son of a Dutch painter. He spend his youth mainly in the French part of Switzerland. Already at the age of seven he gave his first concert. He first want to be a painter, just as his father, so studied originally at the Academy of Design in The Hague. But after that he got singing lessons with Herbert Raideck and from 1953 on at The Hague Conservatory. A scholarship from the French government enabled him to study with Pierre Bernac.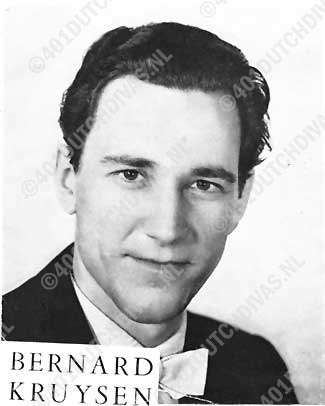 Bernard Kruysen
In Paris he received the Gabriel Faurée Price. Although he made his debut in opera, and frequently performed as a soloist in oratorio and concerts, he was best known for his solo recitals, especially of French song. A fastidious artist, he had an ample, burnished tone, and held in fine balance the detailed inflections and the fuller design of each song. In France he was recognised as one of the greatest interpreters, and several of his recordings of melodies received awards. In 1962 he received the Grand Prix du Disque for his outstanding performance of Debussy lieder. He gave recitals with Poulenc and Hans Henkemans, among others, and had a strong partnership with the pianist Noel Lee. In 1967 he made his first successfully tour through the Unites States.
On the opera stage he appeared only seldom, in Leoncavallo's 'Il Pagliacci' as Silvio, 1959, in Bizet's 'Les pêcheurs de perles' as Zurga, 1971 and in 1973 with an amateur company in Moniuszko's 'Halka' as Janusz, in Polish language! In 1976 in Purcell's 'Dido and Aeneas' as Aeneas and finally in Massenet's 'Cendrillon', 1987 as 'Le roi'. In addition, he represented his country at the world championships in spear fishing, and made underwater films with apparatus that he developed himself.
Bernard Kruysen made numerous recordings for labels as Epic, Valois, Westminster, Philips, Telefunken and Eurodisc, among them Bach cantatas but most of time Lieder, especially French repertoire.
Bernard Kruysen
Source: a.o. Bach Cantatas Website