Hans Wilbrink
---
---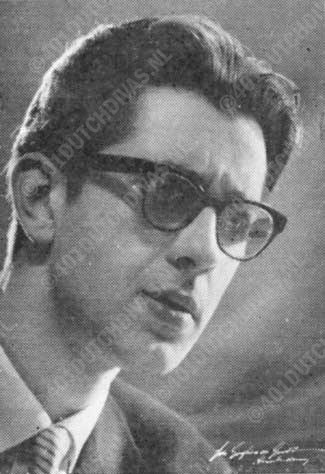 Johannes Cornelis Bernardus (Hans) Wilbrink was born on October 8, 1933, in Rotterdam. He first appeared a boy soprano, and then studied at the Utrecht Conservatory (singing and conducting). He further studied singing with Berthe Seroen, Boris Pelski, Felix Hupka and Charles Panzerai. Following his studies, he started his career as concert- and oratorio singer. In 1954 he won First Prize in the Benelux Vocal Competition Den Bosch (the forerunner of the 1955 International Vocal Competition Den Bosch) in the baritone category. In 1955 he was also among the winners in a vocal competition of the Westdeutschen Rundfunks ARD in Munich. Subsequently, in 1956 he performed in The Netherlands as soloist in Beethoven's Symphony Nr. 9, with the Concertgebouw Orchestra, Amsterdam.
Debut and early career
Hans Wilbrink made his opera debut in The Netherlands as Herr Fluth in Nicolai's Die lustigen Weiber von Windsor, during a Kunstmaand Amsterdam performance of June 6, 1956. In 1958 he created the title role in Sem Dresden's opera François Villon, during the Holland Festival.
During the season 1958/59 Wilbrink sang mostly minor roles, with the exception of Der Graf von Eberbach in Lortzing's Der Wildschütz, on June 4, 1958 (a production of Kunstmaand). Another major part was Shaunard in Puccini's La bohème, November 5, 1958 (with The Dutch Opera ensemble). Only once more he appeared in opera in The Netherlands, as Papageno in Mozart's Die Zauberflöte, on September 7, 1960. In the same year, Wilbrink also appeared in broadcast concerts of Tchaikovsky operas. He was Mazeppa in Tchaikovky's opera by that name, and Robert in Iolante.
By that time his international career was already well under way. It had started when Sir Georg Solti called upon him for The Frankfurt Opera House, where he was a member of the ensemble as of 1959. From 1959 until 1961 he also appeared in guest appearances at the Städtischen Oper Berlin. From 1966 onwards, for a tenure that lasted a full 30 years, he was a member of the Munich State Opera. In 1975 he there received the honorary title of Kammersänger.
Creator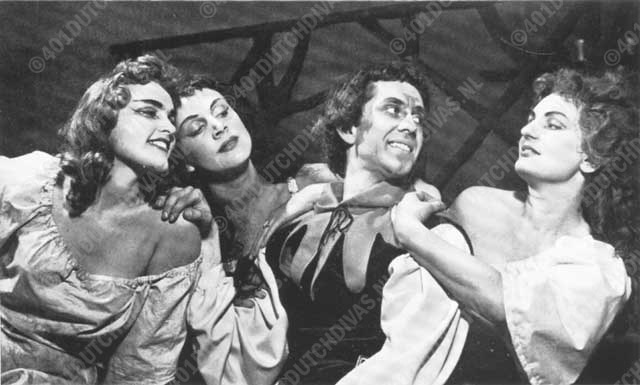 Wilbrink took a clear liking to contemporary opera, perhaps also because there was less competition, and sang in many world premieres. Among the most notable ones were his Frankfurt creations of Louise Talma's Alkestiade, Gerhard Wimberger's Der Kobold, Humphrey Searle's Das Foto des Kolonels, in Frankfurt Louise Talma's Alkestiade and Gerhard Wimberger's Kobold (1964), and in MünchenGunther Bialas' Aucassin und Nicolette (1969), Josef Tal's Die Versuchung (1976) and Volker David Kirchner's Belshazar (1986).
Gunther Bialas's Die Geschichte von Aucassin und Nicolette
Scene 1 The French Lesson
Hans Wilbrink (Aucassin), Ingeborg Hallstein (Nicolette), Orchestra of the Bavarian Sate Opera Munich - Matthias Kuntzsch.
From Figaro to Malatesta
Among his most renowned roles from the repertoire were Figaro (Figaros Hochzeit, Mozart), Guglielmo (Cosi fan tutte, Mozart), Papageno (Zauberflöte, Mozart), Scherasmin (Oberon, Weber), Malatesta (Don Pasquale, Donizetti), Olivier (Capriccio, R. Straus), Morbio (Die schweigsame Frau, R. Strauss), Mr. Gedge (Albert Herring, Britten), and Oberon (A midsummer night's dream, Britten). As late as April 8, 1997, Wilbrink appeared in the world premiere of Moritz Eggert's opera Helle Nächte.
Reflections on a career
Guest appearences brought him to Vienna and Paris in 1962, to Glyndebourne (as Pelléas in Debussy's Pelléas et Melisande). He was renowned as concert and oratorio singer, and his song recitals were beloved with his audience. However, Wilbrink's career reflects the challenges and the tough choices any given opera singer may face at one point or another in his or her career. In the Netherlands, he was destined to be among the leading baritones of his day, in Germany he was a fine baritone among many fine baritones. Simultaneously, baritone Albert van Haasteren faced a similar situation, where he had to chose between going to a provincial theatre where he would be first baritone, or to go to a more prestigious theatre, where he might be second baritone, singing comprimario parts. Van Haasteren chose to sing bigger roles, whereas Wilbrink chose for the more prestigious theatre, ending up singing countless 'Notaries' in Der Rosenkavalier and the like. From a non-singer's perspective this may seem odd, but from a singer's perspective financial security, better working conditions and the like are of course important.
Death
In the fall of 2003 he was expected in the Jury of the International Vocal Competition Den Bosch (IVC), which he himself had won at the first competition in 1954. By the time he was acted as a jury member he was – amazingly – still in his active career. His IVC jury appearance was prevented by his unexpected death, which occurred on Wednesday, August 20, 2003, age 69, in his Munich residence. Just a few weeks prior to his death, he had appeared there as The Notary in Richard Strauss' Der Rosenkavalier.
Discography
Wilbrink recorded for labelsChristophorus-Verlag (Missen van Schubert), Music and Arts (Beethoven: Ninth Symphony conducted by Otto Klemperer, 1956), DGG (Rossini: La Cenerentola), Schwann (J.S. Bach: 'Gloria'), EMI ('Die Meistersinger von Nürnberg'), TIS (Beethoven: Ninth Symphony).
A full discography including his bootleg recordings can be found here

JL/RS