Judith Toff
"... a magnificent voice ... with a very beautiful timbre ... "
Laurens Eijsink, Amsterdam
"... Judith Toff was a very acceptable Conception in l'Heure Espagnol van Maurice Ravel ... "
G.S.de Bossan, juli 1941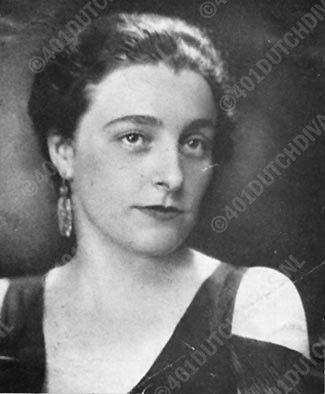 Judith Toff
The Jewish mezzo soprano followed - just as soprano José Candel - her singing study with Rosa Schönberg in Amsterdam. Later she became her assistant with the giving of singing teaching. Judith Toff also followed the opera school of Johannes den Hertog at the Amsterdam Conservatory, together with other singers as a.o.Greet Koeman, Michel Gobets, Frans Vroons, Theo Baylé and Jo Vincent.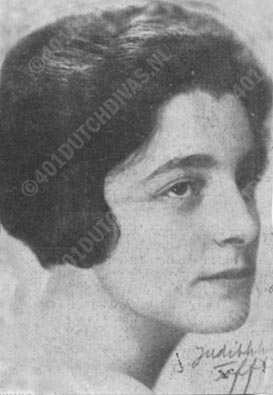 She made her opera debut with the 'Wagnervereeniging' (Wagner society) on 12 April 1934 as Edelknabe in Wagner's 'Tannhäuser'. This was a performance on occasion of the 50th year anniversary of this society with cooperation of and famous vocalists as Max Lorenz, Heinrich Schlusnuss, Maria Müller, Erna Berger and our fellow-country man the tenor Gerrit Visser. She sang further in Wagner's 'Lohengrin' (brabantische Edle, Frans Vroons made her his debut as Edelknabe, 7 May 1936), 'Götterdämmerung' (Norne) and 'Die Walküre' (Siegrune). In Richard Strauss' 'Der Rosenkavalier' as 'adliche Waise' and on 22 June 1939 as 'Conception' in Maurice Ravel's 'l'Heure Espagnol'.
This was a performance in commemoration of the on 28 December 1937 died Maurice Ravel
Her final opera roles were as 'Nicklause' in Jacques Offenbach's 'Les contes de Hoffmann'. Hoffmann was sung by her Jewish college the tenor Michel Gobets. It were performances of the 'Nederlandse Operastichting' (Dutch Opera Society) of Johannes den Hertog on 10 January 1940 and for the before mentioned 'Wagnervereeniging' on 1 February 1940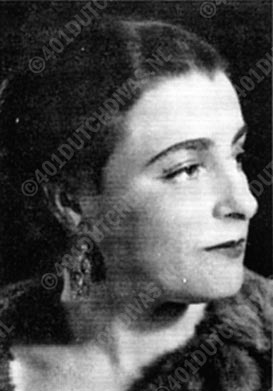 Judith Toff sang several times with the Concertgebouw Orchestra. On 29 April 1937 in Wagner's Götterdämmerung under Erich Kleiber, 26 June 1938 in works by Claude Debussy and Maurice Ravel under Frits Schuurman, in the season 1938/39 in Ermanno Wolf-Ferrari's 'Le donne curiose', June 1939 in Wagner's Walküre. On 4 February 1940 Judith Toff appeared in a concert with the Concertgebouw Orchestra under Eduard van Beinum and she sang from Massenet's 'Werther' the well known aria 'air des lettres' and from Camille Saint-Saens 'Samson et Dalila': 'Mon coeur s'ouvre à ta voix'. It would be her final concert. Judith Toff was lead away to a German concentration camp and wouldn't return any more.
From this concert:
Massenet, Werther: "air des lettres"