Nan Merriman (1920-2012)
"... Her Dorabella, Nan Merriman, is the perfect vocal match not only for Schwarzkopf but also for Panerai's Guglielmo (try 'Il core vi dono' as evidence of this). Merriman gives a dramatic portrayal, too, but within Mozartian limits: her 'Ah, scostati! … Smanie implacabili che m'agitate' is superbly done, without suffering from over-vibrato ... "
EMI 'Great Recordings of the Century' CMS5 67064-2 , Colin Clarke"... Het was een ontroerend musiceren ... "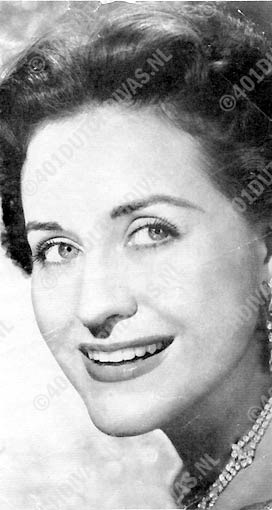 Nan Merriman

Katherine Ann (Nan) Merriman - one of America's leading opera singers for two decades following World War II - was born on April 28, 1920 in Pittsburgh, U.S.A. She studied singing in Los Angeles with Alexis Bassian and the famous German soprano Lotte Lehmann. Before she was 20 she was earning money as a singer for film soundtracks. In that capacity, she attracted the attention of Laurence Olivier. In 1940, she took part in a tour around the United States together with Sir Laurence Olivier and his wife Vivien Leigh. During scenery changes of Romeo and Juliet, she sang Palestrina and Purcell arias. She had been making regular concert appearances for five years before she made her operatic debut as La Cieca (La Gioconda) at the Cincinnatti Summer Opera. Later, after she had won 15 minutes of NBC broadcasting time at a singing competition, conductor Arturo Toscanini, looking for new talent heard her on the radio. Her voice impressed him so much, that he engaged her in 1944 for his own broadcasts and recordings of Glucks Orfeo (as Orpheus), Falstaff (as Mrs Meg Page, a role which she sang once in the Netherlands), Rigoletto (as Maddalena), Otello (as Emilia), and in Beethoven's Missa Solemnis.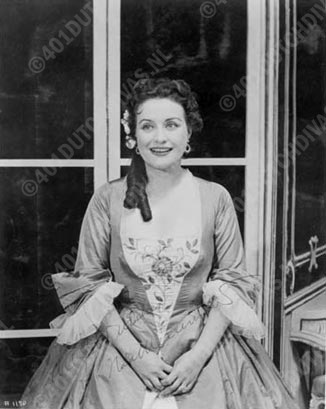 Nan Merriman as Dorabella in Mozart's Cosi fan tutte

Soon after the Second World War Nan Merriman came to Europe where much of her career was to be centered. The role, she was most indentified with and on which she built a strong reputation in Europe, was Dorabella in Mozart's 'Cosí fan tutte', which she sang amongst others at the Festival in Aix-en-Provence in 1953, 1955 and 1959; the Piccola Scala in 1955/1956, and at the Glyndebourne Festival 1956. She participated in two different complete recordings of Così fan tutte. Nan appeared as Baba the Turk in the British premiere of Stravinskys 'The Rakes Progress' at Edinburgh (1953) and as Laura in 'The Stone Guest', by the nineteenth-century Russian composer Dargomizhsky, in 1958. Throughout the 1950s she appeared at many of the leading European opera houses, including Brussels, Amsterdam, Vienna, Milan and Paris, and was a favorite at the Chicago Lyric Opera and the San Francisco Opera.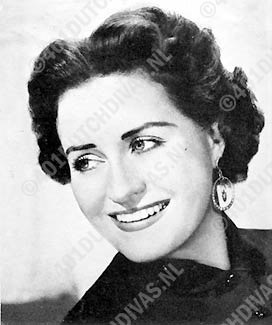 She was very much admired in the Netherlands, where she became a particular favorite singer in recitals and on the concert platform with songs and Lieder of Bizet, Ravel, Debussy, Mahler and De Falla, accompanied by pianist as J.Antonietti and Felix de Nobel. On May 17, 19 and 21, 1957 she appeared under Otto Klemperer in Beethoven's Missa Solemnis, together with Elisabeth Schwarzkopf, Jozsef Simandy and Heinz Rehfuss. On stage she appeared only once in the Netherlands, in Verdi's Fallstaff as Mrs Meg Page on June 29, 1956 in the Gebouw voor Kunsten en Wetenschappen in The Hague. Nan Merriman married with the Dutch tenor Tom Brand in Eys, Limburg, became at the same time the Dutch nationality, and retired completely from stage. Her last concerts, accompanied by Felix de Nobel at the piano, were at April 27 and 28, 1965 in the Concertgebouw, Amsterdam.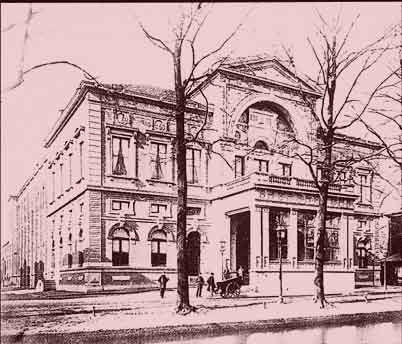 Gebouw voor Kunsten en Wetenschappen, The Hague
(Building for Art and Science)

Her husband Tom Brand, started as an opera singer, became an accomplished oratorio singer who sang the tenor part in numerous passions, oratorio and cantatas. He was widowed in the early sixties and father - as a good catholic! - to ten children. Nan decided to give up her career in order to be with him and take care of the children. Unfortunately, Tom Brand died of a heart stroke in 1970. Nan stayed in the Netherlands taking responsibility for the children, but when they were grown up she moved to Los Angeles in 1973 and never returned to Europe and the Netherlands.
Farewell concerto April 27, 1965, Amsterdam: El vito (old Spanish song, introduced by the artist), piano Felix de Nobel
Discography:
Nan Merriman - mezzo soprano - DDR 0802
Farewell concerto - Amsterdam 27 April 1965
01-Bizet, Ouvre ton coeur, piano Gerald Moore, 1954
02-De Falla, Suite populaire Espagnole, live Amsterdam 1965, piano Felix de Nobel
03-Encores with introduction by Nan Merriman, live Amsterdam 1965, piano Felix de Nobel
De Falla, El amor brujo
04-Introduccion y escena ... Cancion del amor dolido, 1950es
05-Cancion del fuego fatuo
06- Danza del juego de Amor ... Final
Mahler, Lieder eines fahrenden Gesellen
04- Wenn mein Schatz Hochzeit macht
05-Ging heut'morgen übers Feld
06-Ich hab ein glühend Messer
07-Ich hab zwei blauen Augen von meiner Schatz
Concertgebouw orchestra under direction of Eduard van Beinum - December 1956
DD Records
order numbers cd: DDR 0802
price per cd: Euro 14,95 (exclusive postage costs)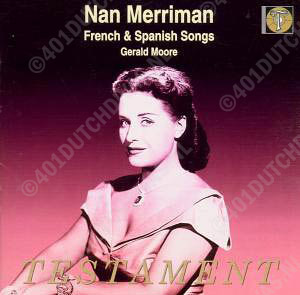 Nan Merriman, Gerald Moore: French & Spanish Songs.
Claude Debussy, Alfred Bachelet, Georges Bizet
French and Spanish Songs (G. Moore), Testament 1134
Opera Arias (Mozart; La Clemenza di Tito, Donizetti, Ponchielli, Verdi, Saint-Saëns, Thomas, Tchaikovsky), Bella Voce 107006
The Red Cross Concert (Toscanini, 1944 live), Radio Years
Gluck - Orpheus ed Euridice (Toscanini, 1952 live; Barbara Gibson), RCA 60280
Mozart - Così fan tutte (Karajan, 1954; Elisabeth Schwarzkopf, Lisa Otto, Rolando Panerai, Leopold Simoneau, Sesto Bruscantini),
EMI 'Great Recordings of the Century' CMS5 67064-2
Mozart - Così fan tutte (Guido Cantelli, 1956 live; Elisabeth Schwarzkopf, Graziella Sciutti, Rolando Panerai, Luigi Alva, Franco Calabrese), Stradivarius 7597/9
Mozart - Così fan tutte (Eugen Jochum, 1962; Irmgard Seefried, Erika Köth, Hermann Prey, Ernst Haefliger, Dietrich Fischer-Dieskau), DGG
Verdi - Falstaff (Toscanini, 1950; Giuseppe Valdengo, Frank Guarrera, Herva Nelli, Cloe Elmo, Antonio Madasi, Teresa Stich-Randall), RCA 72372
Verdi - Otello (Toscanini, 1947; Ramon Vinay, Giuseppe Valdengo, Herva Nelli), RCA
Verdi - Rigoletto (Toscanini, 1944; Leonard Warren, Zinka Milanov, Jan Peerce, Nicola Moscona), RCA
Verdi - Rigoletto (Renato Cellini, live 1950; Leonard Warren, Erna Berger, Jan Peerce), Naxos Historical 10198-99
Bach - Messe in h-moll BWV 232 (Hermann Scherchen, 1959), MCA
Bach - St Matthew Passion BWV 244, (Ljubomir Romansky), NYR
Beethoven - Missa Solemnis (Bruno Walter, 1948 live), AS Disc
Beethoven - Missa Solemnis (Toscanini, 1953), RCA 74321-55837-2, with Eileen Farrell, Jan Peerce, Norman Scott, Lois Marshall, a.o.
Beethoven - Symphony 9, with Choral, see above
Mahler - Das Lied von der Erde; Lieder eines fahrenden Gesellen, with Ernst Haefliger, ten. (Eduard van Beinum, December 3, 1956), Philips 462 068-2
Mahler - Das Lied von der Erde (Eugen Jochum, 1963), DGG
Mahler - Das Lied von der Erde (Hans Schmidt-Isserstedt, 1965 live), with Fritz Wunderlich, tenor Bella Voce 107011
A.Diepenbrock - Te Deum Laudamus, soloists: Erna Spoorenberg, sopr.; Nan Merriman, mezzo-soprano; Laurens Bogtman, baritone, Ernst Haefliger, tenor - Eduard van Beinum, live performance December 7,1956, Philips, available at Q DISC - 97015, CD11