Mimi Aarden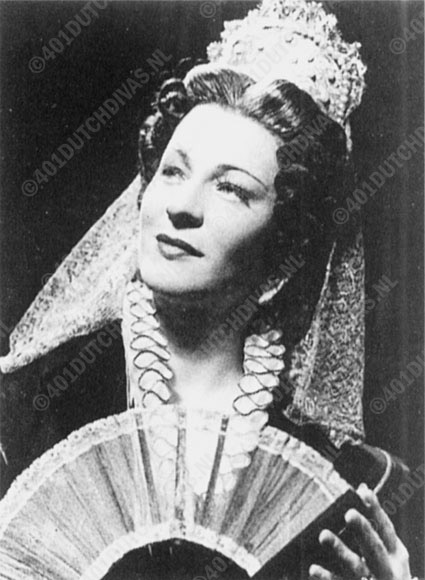 Mimi Aarden was born on 3 May 1924 in Steenbergen. Her singing study she followed at the Amsterdam Conservatory with Ruth Horna and Daniella Lohoff. She also received lessons with Jo Immink. She made her opera debut in1948 in Antwerp as Carmen. In the Netherlands she debuted in 1953 with the Utrechtse Opera in the role of Carmen (according to Leo Riemens in 1949 with the Nederlandse Opera). The same season (1953) she sang as 3e dame in Mozart's Die Zauberflöte. There after she performed many times the role of Carmen in the Netherlands and further roles as Eboli (Don Carlos, Verdi), Amneris (Aida ,Verdi), Jocasta (Oedipus Rex, Stravinsky), Marcellina (Figaros Hochzeit, Mozart), Ulrica (Un ballo in maschera, Verdi), Emilia (Otello, Verdi), Annina (Rosenkavalier, Strauss), Lucretia (The rape of Lucretia, Britten), Kabanicha (Lady Macbeth von Mtsensk, Sjostakovitsj) and the old countess in Stravinsky's Pique Dame. She cooperated in Holland Festival productions a.o. in 1957 as 'Baba de Turk' in Strawinsky's The rake progress and in the premiere of De Droom (The Dream, 1965, T. de Leeuw).
Mimi Aarden joined from 1955-56 the Städtischen Oper Berlin, from 1958-59 the Opernhaus von Köln and from 1960-1964 the Staatsoper Hamburg. At the last opera house she also appeared often as guest. In Hamburg she sang in the première the role of Kurfürstin in Der Prinz von Homburg, by Dutch composer Henze. She also sang regular in Belgian opera houses, in Antwerp, Gent, Luik (1962-63, as Azucena in Verdi's Trovatore) and in 1966 in Brussels, but also in Vienna, Berlin and in London (Covent Garden 1958, Amneris in Aïda).
Her final appearance was on 30 August 1970 in the Stadsschouwburg of Tilburg as Carmen, the role with she debuted in 1948 in Antwerp. Mimi Aarden was also active as a concert singer.
Mimi Aarden made recordings for Telefunken (Sandmännchen in Hänsel und Gretel), for EJS: Herodiade by Massenet and for Verona: Adriana Lecouvreur (1965, with Magda Olivero in de title role).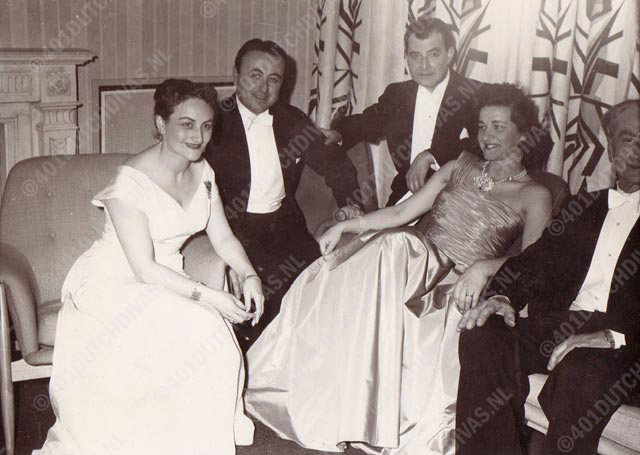 from left to right Lucy Tilly, Ettore Babini, E. Lutzo, Mimi Aarden, 1956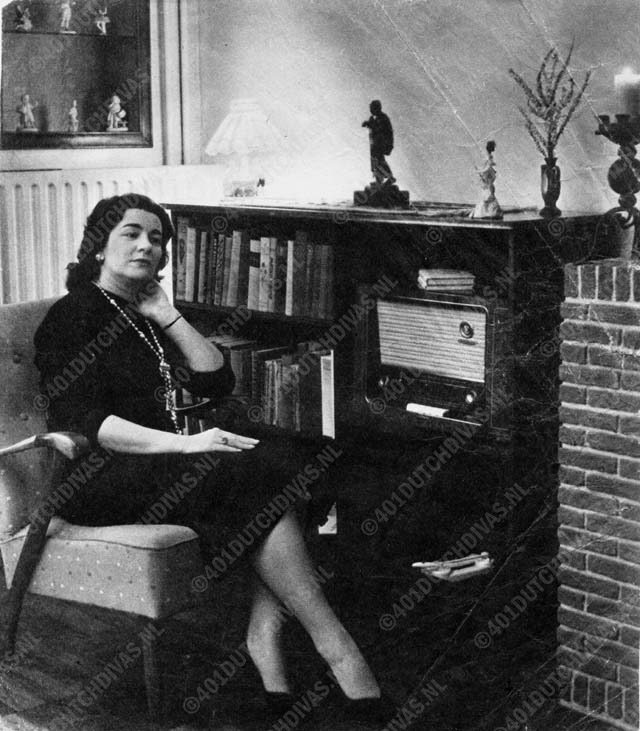 Mimi Aarden, at home
Giuseppe Verdi, Don Carlos, duet together with soprano Annette de la Bije, VARA 1959