Jard van Nes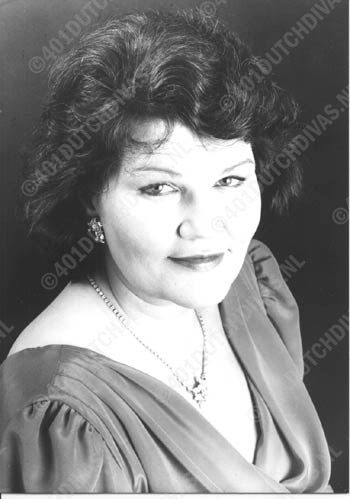 Jard van Nes
After finishing her piano studies with Sas Bunge, Jard van Nes started her vocal studies with Herman Woltman at the Royal Conservatory in The Hague.
In 1978 she was a prizewinner in the International Vocalist Concourse of 's-Hertogenbosch and in 1981 in the International Opera- and Belcanto Competition, organised by the Belgian Radio. In 1984 Jard van Nes received the prestigious Dutch Music-award after additional studies with Christa Ludwig and Noemie Perugia.
In a very short time Jard van Nes became one of the most sought-after Dutch singers, who also outside her own country was considered to belong to the most important mezzo-sopranos of her generation. She worked on a regular basis with conductors of great fame like Daniel Barenboim, Roberto Benzi, Pierre Boulez, Riccardo Chailly, Charles Dutoit, Ivan Fischer, Carlo Maria Giulini, Bernard Haitink, Nikolaus Harnoncourt, Mariss Jansons, Reinbert de Leeuw, Kurt Masur, Mstislav Rostropovitch, Esa-Pekka Salonen, Kurt Sanderling, Georg Solti, Hans Vonk and Edo de Waart. She performed with all the Dutch orchestras, but also with most of the top-orchestras in the world she became a regular returning guest-soloist. Her repertoire ran from the period of early Baroque-music till pieces specially written for her, Theo Loevendie, Caroline Ansink, Tristan Keuris. During her singing career she worked in all the continents, except South-America and Africa.
A special reputation she earned with the music of Gustav Mahler; worldwide she performed many times his orchestral- and piano songs, as well as solo parts in his symphonies, second, third and eight symphony. Also with her interpretation of Das Lied von der Erde she moved again and again a huge audience.
With pianists like Gérard van Blerk, Roger Vignoles and David Selig Jard van Nes has given song recitals all over the world. For instance in the Wigmore Hall, London; Carnegie Hall, New York; Le Theâtre de l'Athenée, Paris; Musikverein, Vienna and of course on all the important podia of Holland.
She made her debut with the 'Nederlandse Operastichting' in 1983 as Bertarido (Rodelinda, Händel). In 1985 she sang the title part in 'Orlando' by Händel with the Nederlandse Opera Stichting and also at the Holland Festival the title part in the premier of 'Naima' by Theo Loevendie, 1985. She sang roles in works of a.o. Händel, Wagner (Brangäne, Fricka, Erda), Verdi (Ulrica) and Richard Strauss.
Lots of appearances at home and abroad, among others in the United States, Canada and in the summer of 1991, during the Salzburger Festspiele, she took part in the new production of 'The Magic Flute' by Mozart, conducted by Georg Solti. Also she participated in several concert performances of operas in the "Matinee op de vrije zaterdag" in Amsterdam.
In 1992, Jard van Nes appeared as soloist in Mendelssohn's oratorio Elias in Tel Aviv, Israel with the Israel Philharmonic Orchestra and the Choir of the Radio Broadcast company of Leipzig. Jard van Nes appeared several times with the 'Gelders Orkest'.
December 26, 2000, she gave her last concert, so that she could dedicate herself totally to the coaching of talented young singers via private lessons and public Master classes, among others in 's-Hertogenbosch, the place where her career started in 1978 with the participation in the International Vocalist Concourse. Some of these classes were recorded for radio and TV. Since than, she also was member of the jury of different competitions, a.o. the Franz Liszt competition, and the already mentioned International Vocalist Concourse of 's-Hertogenbosch, etc.
In April 2002 Her Majesty the Queen of the Netherlands appointed her "Ridder in de Orde van de Nederlandse Leeuw".
Urlicht, from Mahler's Second Symphony, conductor Hans Vonk