Tania Kross
As Cherubino in Le Nozze di Figaro, Staatstheater Hannover, conducted by Shoa-Chia Lü, directed by Thomas Bischoff, 29 september 2002
"Da ist Charubino umtriebiger: Tania Kross nützt Arie und Arietta um nicht nur Susanna und der Gräfin zu gefallen"
Hannoverische Allgemeine, Rainer Wagner, 1 oktober 2002
In the Rake's progress van Stravinsky, Neuer Berliner Kammerorchester, Konzerthaus Berlijn, 29 mei 2001
".... und Tania Kross stellte mit rollenden Augen und "grosser" Mimik die Künstlichkeit der Türkenbaba aus."
Berliner Zeitung, 1 juni 2001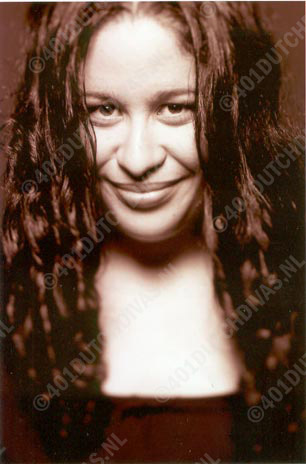 Tania Kross, mezzosopraan

Mezzo-soprano Tania Kross was born in Curaçao in the Netherlands Antilles in 1976. She studied voice at the Hogeschool voor de Kunsten in Utrecht with Henny Yana Diemer. She was a member of the opera class under the direction of producer Monique Wagemakers and pianist/coach Jan Slothouwer. Tania Kross gained her Performer's Diploma in 2001. She has taken part in master classes with Dawn Upshaw, Sarah Walker and Christa Ludwig. In recent years Tania Kross has been awarded various important prizes: a first prize by the Stichting Jong Muziektalent Nederland, first prize in the Cristina Deutekom Concours 2000, an incentive prize in the Rosa Ponselle International Competition for Vocal Arts (New York), and the NPS Cultuur Prijs 2000. During the 2001-2002 season she was member of the ensemble of Opera Studio Nederland.

Tania Kross has performed in several opera productions; her roles include Baba in Stravinsky's The Rake's Progress, Siébel in Gounod's Faust, Zita in Puccini's Gianni Schicchi, Orlofsky in Die Fledermaus and the title role in Bizet's Carmen, a production directed by Pierre Audi. Tania Kross made her entry in eleven Dutch concert halls, among which the Concertgebouw in Amsterdam, in a series called "Het Debuut". Last season she again can be heard in the Kleine Zaal at the Concertgebouw in a recital upon invitation of the Dutch reknowned Dutch author Adriaan van Dis.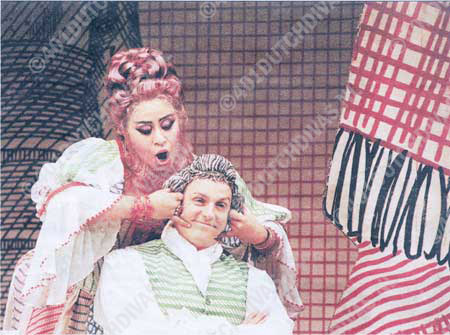 photo Hermann and Clärchen Baus
Tania Kross and Marcel Reijans in Stravinsky's The Rakes progress, 2005
Tania as Baba the Turk (the woman with beard)

During he 2002-2004 seasons Tania Kross is ensemble member at the Staatsoper in Hanover singing Cherubino (Le nozze de Figaro), Susuki (Madama Butterfly), Romeo (I Capuletti e I Montecchi), Don Ramiro (La finta gardiniera). Later this season she will also sing Flora in La Traviata at the Nederlandse Reisopera, and Suzuki in Puccini's Madama Butterfly. In June Tania Kross will represent The Netherlands in the 2003 Cardiff Singer of the World competition
G.F. Händel - Giulio Cesare: Sesto "La giustizia ha già sull'arco pronto strale ..."
Also Tania Kross has now her own website
sources: o.a. : Idiaal! artist management, Radio Nederland Wereldomroep