Elisabeth Ohms
Like Lotte Lehmann, Frida Leider, Elisabeth Schumann, Heinrich Schlusnus and Friedrich Schorr, Elisabeth Ohms, too, was born in 1888 - to be more precise on May 17th in Arnheim / Netherlands. She studied violin and piano and only at the age of 28 decided to become a singer. She was trained at the Conservatory of Amsterdam and later at Frankfurt am Main in Germany and made her debut in 1921 at the Stadttheater in Mainz.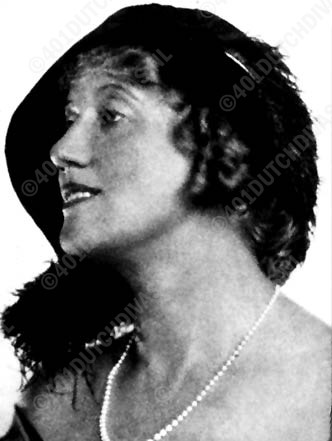 Elisabeth Ohms, soprano
Only two years later she signed a contract with the Munich State Opera, which was to become her artistic home for the next 20 years. It was in Beethoven's "Fidelio" that she was heard there for the first time on March 14th 1922. She was Munich's first Turandot on November 11th 1927 and also the first "Agyptische Helena" under Hans Knappertsbusch on October 8th 1928. Arturo Toscanini. who was one other greatest admirers, brought her to the Scala of Milan, where she sang the roles of Kundry and Isolde in 1927 and 1929. In Vienna she appeared in guest performances as Brünnhilde in "Die Walküre" and Ortrud and as Isolde under the direction of Richard Strauss on January 8th 1928.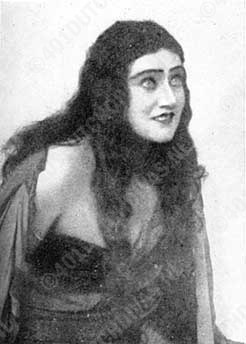 Elisabeth Ohms in a performance of the 'Wagnersociety'

In the Netherlands Elisabeth Oms appeared only a few times for the Wagner Society. In 1918 as Waltraute in the Walküre (Siegmund, Jacques Urlus and Sieglinde, Annie Ligthart) and in 1926, 1929 as Donna Elvira in Mozart's Don Giovanni, Leonore in Beethoven's Fidelio (Florestan, Jacques Urlus) and Kundry in Parsifal, again with Urlus now as Parsifal. In the years 1928, 1929 and 1935 Elisabeth Ohms was heard at the Covent Garden Opera in London and in 1930 made her debut at the Metropolitan Opera in New York in "Fidelio". During this and the following season in New York she was greatly acclaimed as Ortrud, Venus and Isolde and furthermore sang all Brünnhilde in the "Ring"-cycle. Her engagement at the Bayreuth Festival definitely established her as one of the most celebrated Wagner singers of her days: in 1931 she appeared there for the first time as Kundry under the direction of Toscanini, who had demanded Ohms for this role. Around this time, several performances at Bayreuth were transmitted on broadcast for the first time, which created a small sensation and made Ohms known to a large public. After many years of international success, the singer restricted her performances more and more to Munich. Later on, she appeared there only sporadically and officially retired in 1942.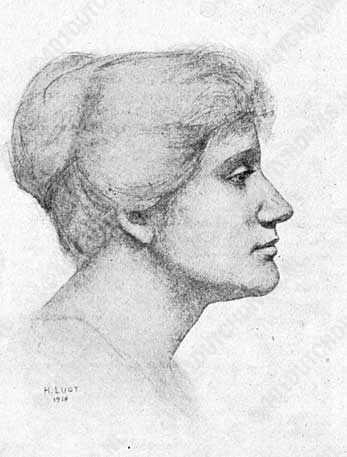 Elisabeth Ohms, after a drawing by H.Lugt, 1918
She spent her retirement in Munich, where she also was a very sought after singing teacher. Well advanced in years, Elisabeth Ohms died in Marquartstein / Bavaria on October 16th 1974.
sound Elisabeth Ohms in Wagner's Isoldes liebestod: 'Mild und leise'
sound Wagner, Holländer, 'Jo-ho-hoe!', 1929
Discography:
Preiser, Elisabeth OhmsELISABETH OHMS (1888-1974), Preiser 89521
[1]Fidelio: Abscheulicher, wo eilst du hin? (Beethoven)
Recorded in 1929 Grammophon 66904 (803/4 Bi)
[2]Oberon: Ozean, du Ungeheuer (Weber)
Recorded in 1929 Grammophon 66900 (795/6 Bi)
[3]Der fliegende Hollander: Traft ihr das Schiff (Wagner)
Recorded in 1929 Grammophon 66928 (797 Bi)
[4]Der fliegende Hollander: Versank ich jetzt (Wagner)
with THEODOR SCHEIDL
Recorded in 1929 Grammophon 95407 (878/9 Bi)
[5]Tristan und Isolde: Mild und leise (Wagner)
Recorded in 1929 Grammophon 66928 (881 Bi)
[6]Schmerzen (Wagner)
Recorded in 1929 Grammophon 66929 (806 Bi)
[7]Träume (Wagner)
Recorded in 1929 Grammophon 66929 (880 Bi)
[8]Der Rosenkavalier: Kann mich auch an ein Mädel erinnern(Strauss)
Recorded in 1929 Grammophon 95385 (801 Bi)
[9]Der Rosenkavalier: Oh, sei er gut, Quinquin (Strauss)
Recorded in 1929 Grammophon 95385 (802 Bi)
[10]Der Rosenkavalier: Hab' mir's gelobt (Strauss)
with ADELE KERN, ELFRIEDE MARHERR
Recorded in 1929 Grammophon 66931 (882 Bi)
GERTRUDE KAPPEL (1884-1971)
[11]Die Walküre: Hojotoho! hojotoho! heiaha! (Wagner)
Recorded in 1924 Grammophon unissued (1937 ax)
[l2]Gotterdämmerung: Starke Scheite schichtet mir dort(Wagner)
Recorded in 1924 Grammophon 66099/100 (599/601 az
[13]La Forza del Destino: Pace, pace, mio Dio! (Verdi)
Recorded in 1924 Grammophon 66100 (602 az)
[14]Faust: Engelchor! Himmlische Schaar! (Gounod)
Recorded in 1924 Grammophon unissued (1936 az)