Gre Brouwenstijn - discography & reviews
Longplay-recordings:
Gré Brouwenstijn sings Verdi Wiener Symphoniker conducted by Rudolf Moralt a.o. with Frans Vroons duet from 'Un Ballo : 'Teco io sto' Philips GO5368R
'Wie nahte mir der Schlümmer' 'Ah Perfido' Residentie-orchestra conducted by Willem van Otterloo Philips SO6019R
Operatic Highlights 'Oberon' Rezia's aria 'Cavalleria Rusticana' Voi lo sapete Radio Philharmonisch orchestra conducted by Paul van Kempen Philips NOO119L
Verdi aria's conducted by Wilhelm Lobner Philips NOO712R
Gré Brouwenstijn sings Verdi and Wagner Wiener Symphoniker conducted by Rudolf Moralt Philips AOO386L
Höhepunkte der Oper 'Freischütz' Carl Maria von Weber conducted by Heinrich Hollreiser with Rosl Schwaiger, Waldemar Kmennt, Walter Berry Philips GO3094L
Tiefland - d'Albert conducted by Rudolf Moralt, with Paul Schöffler, Oskar Czerwenka, Ebarhard Wachter, Hans Hopt Philips AOO413/14 L
'Die Walküre', Wagner conducted by Erich Leinsdorf with Birgit Nilsson, Rita Goir, John Vickers, Georg London RCA LM6706-C/1-5
Gré Brouwenstijn 'Famous Operatic Arias' Beethoven, Verdi, Puccini, conducted by Leo Driehuys His Master's Voice SCLPH113
Beethoven: Symphony no.9. conducted by André Cluytens. Vocalists: Gré Brouwenstijn, Kerstin Meyer, Nicolai Gedda and Frederick Guthrie. Choir of St. Hedwig's Cathedral, Berlin
Afscheid (Farewell) Gré Brouwenstijn. aria's from: Tannhauser, Lohengrin, Der Fliegende Holländer, Don Carlos, Il Trovatore and La Forza del Destino. Philips 6833039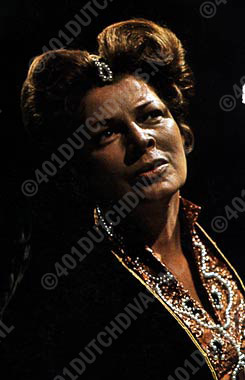 Gré Brouwenstijn
CD releases:
Portret Gré Brouwenstijn. 2CD set. A.o. Verdi, Wagner and Weber. Philips 462 071-2
Gré Brouwenstijn. Wagner. Verdi. Beethoven.Weber. Philips Legendary Classics 426 031-2
Don Carlos, Verdi. 3CD set. Gré Brouwenstijn, Fedora Barbieri, Tito Gobbi, Boris Christoff and Jon Vickers. Myto 3 MCD 941.97 (3) Awarded with a 10 in 'Luister'.
Gré Brouwenstijn - Giuseppe Verdi scenes-arias Verona 27056
Gré Brouwenstijn - Fidelio, Un Ballo, Don Carlo, Otello, La Forza, Gianni Schicchi, Tosca EMI 7243 5 65823 2 3 .
Wagner: 'Die Walküre' Gré Brouwenstijn (Sieglinde), John Vickers ( Siegmund), Georg London (Wotan), Birgit Nilsson ( Brünhilde). Dirigent Erich Leinsdorf. Awarded with a 10 in 'Luister'. Decca 430 391-2 (3 cd).
Verdi: Un ballo in maschera. Live from Amsterdam. Holland Festival 1958 Gré Brouwenstijn (Amelia), Giuseppe Zampieri, (Riccardo), Scipio Colombo (Renato), Anny Delorie (Ulrica), Eugenia Ratti (Oscar), Jos Burcksen, (Silvano), Guus Hoekman (Samuel), Gerard Groot (Torn), Chris van Woerkom (Giudice), choir and orchestra of the 'Nederlandse Opera' conducted by of Francesco Molinari-Pradelli. Globe GLO 5109 (2) Awarded with a 10 in 'Luister'.
Tosca, Giacomo Puccini Conductor: Roberto Benzi Performers: Gre Brouwenstijn , Ermanno Mauro, Pieter Van Den Berg, Nico Boer, Jan Derksen Globe GLO ??
Richard Wagner, Ring des Nibelungen, Bayreuth 1946 Conductor: Hans Knappertsbusch. Performers: Gre Brouwenstijn (as: Sieglinde, Freia and Gutrune), Arnold van Miill, Astrid Varnay, Wofgang Windgassen, Hans Hotter, Joseph Greindl, a.o. Label: Music & Arts Program - #4009 13 discs.
Wagner: Tannhauser, Bayreuth 1955, conductor: Andre Cluytens, vocalists: Toni Blankenheim, Gre Brouwenstijn , Dietrich Fischer-Dieskau, Josef Greindl, Alfons Herwig, Volker Horn, Schoneberger Sangerknaben, Gerhard Stolze, Josef Traxel, Wolfgang Windgassen , Herta Wilfert Label: Melodram - #10055
Nederlandse Diva's: A compilation cd, released by 'Kruidvat', on which Gré Brouwenstijn is represented with 5 arias from operas of Verdi , Puccini and Mascagni - more as 35 minutes live recordings, more information look at Compilations.
Reviews ( a few examples):
30th October 1951, debut Covent Garden with Aïda 'The voice, which she did not think necessary to keep at full strength all the time has an appealing quality and ample power in reserve' 'The palm goes without question to the Dutch soprano Gré Brouwenstijn'
13th November 1951, Covent Garden, Il Trovatore, 'Miss Brouwenstijn is the touching and noble Leonora'
26th November 1953, Covent Garden, Il Trovatore, 'Miss Brouwenstijn is that rare phenomenon, a Verdi stylist from a Non-Latin country; her voice is of the right weight and colour'
December 1953, Covent Garden, Aïda, 'As Aïda Miss Brouwenstijn gave one of the most dramatic performances enjoyed in this theatre for a long time'
22th April 1954, Berlin, 'Städtische Oper', Fidelio, 'Sie ist eine der nicht allzu zahlreichen Sängerinnen, denen man diese Rolle glaubt'
May 1954, Bayreuth, Tannhäuser, 'Eine Engelreine Gré Brouwenstijn' 'Gré Brouwenstijn von Amsterdam: Man darf die Wahl glücklich nennen, die junge Künstlerin wurde ihre Aufgabe in hohem Masze gerecht.' 'Gré Brouwenstijn, derer tragfähige Stimme vortrefflich dem Freudentaumel der Apotheose des Schlusse entsprach'
March 1956, Paris, Fidelio conducted by Wieland Wagner, 'Gré Brouwenstijn en pleine possesion de son rôle et sa voix'
9th May 1958, Covent Garden, Don Carlo conducted by Guilini, 'Gré Brouwenstijn carried the testing role of Elisabeth de Valois with style and fine quality, singing out with greater volume than I ever heard her use at Covent Garden' Gré Brouwenstijn made a beautiful and pathetic Elisabeth de Valois, rising to her finest in the final scene with Carlos'
December 1958, Vienna, Un ballo conducted by Herbert von Karajan, 'Ausgezeichnete Amelia' 'Gré Brouwebstijn, die ebenfalls die Leistung ihrer Vorgängerin Birgit Nilsson hinter sich lässt, weil ihr der Belcanto weit naturlicher seelischen Gefühlsausdruck bedeutet' Gré Brouwenstijn sang mit einem schlanken, aber ausdrucksvollen Sopran die Amelia'