Marijke van der Lugt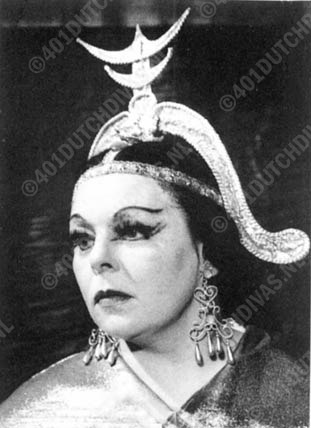 photo: Particam
Marijke van der Lugt (Maria Grin) was born on 5 January 1919 in Rotterdam as daughter of a navy officer. At first she wanted to be a teacher, but after the discovery of her singing talents, she went to The Hague to study with Mrs. Zegers van der Beyl. She debuted after World War II, still under her own name (Maria Grin), as operetta singer at the radio, sang in opera concert performances en gave concerts.
She made her debut with the Nederlandsche Opera on 2 May 1958 in the title role of Puccini's Turandot, alternate with Antoinette Tiemessen. She sang many Verdi-operas, Amelia (Un ballo in maschera), Aida, Abigaille (Nabucco), but performed also roles as Donna Anna (Don Giovanni, Mozart), Brünnhilde (Walküre, Wagner), Ortrud (Lohengrin, Wagner), Santuzza (Cavalleria Rusticana, Mascagni), Turandot, Elektra (Richard Strauss), Leonore (Fidelio, Beethoven) and Prokne (Philomela, Hendrik Andriessen, Holland Festival 1962). She sang also with that time Opera Forum (now Nationale Reisopera) and co-operated in the television opera Alceste (1963, T.de Leeuw).
Debuted as an operetta-singer. She appeared in the fifties at the 'Nederlandse Opera', where she sang in Verdi-operas , but also sang in roles as Santuzza (Cavalleria Rusticana), Turandot, Elektra, Prokne (Philomela). She co-operated with the television-opera Alceste (1963, T.de Leeuw). Also appearances abroad, such as in London, Vienna, Zürich, Verona (as La Gioconda) and at German theatres.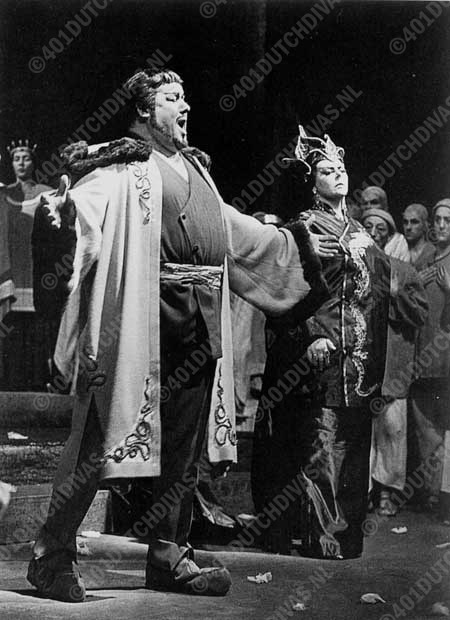 photo: Algemeen Hollands Fotopersbureau
Marijke van der Lugt as Turandot and Hans Kaart as Calaf in Puccini's Turandot, De Nederlandse Opera, 1961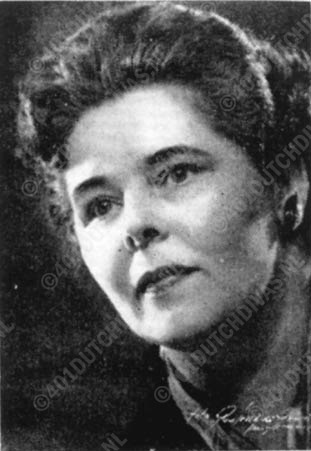 She appeared also regurly abroad, a.o. in London (Covent Garden), Vienna (Staats Oper), Zürich, Verona (as La Gioconda together with the tenor Carlo Bergonzi). In Germany she sang in 1965 in the Deutschen Oper am Rhein Düsseldorf-Duisburg the role of Isolde in Tristan und Isolde and Elektra in the same named opera of Richard Strauss. During some time she joined the Stadttheater von Münster (Westfalen). An invitation to sing in the United States she declined because her family with four children.
End seventies Marijke van der Lugt finished her international singing career and applied herself to singing education. From 1975 she lead in The Hague a private singing school with about twenty pupils.
Marijke van der Lugt died on 2 September 1989 in her hometown The Hague.
Trovatore: "Di te ... Tu vedrai" , recorded.1960