Johan van der Zalm
" ... van der Zalm sang with a warmth and a recreated ability, which made Chenier alive for us, what was also to conclude from the reactions of the public ... "
Haags Dagblad, 13 May 1960
"... van der Zalm acquit himself more as sufficient of his task ... his singing was beautiful of timbre ... "
"Binnenhof, Den Haag, 13 May 1960
Johan van der Zalm (1919-1995)
De tenor Johan van der Zalm was born in The Hague on 29 October 1919. He received his singing study with Chiesa (Milaan), professor Wallerstein and with Ruth Horna. He was active as an operetta singer since1942. In this he made his debut on 5 May 1942 with the "Gemeentelijk Theaterbedrijf, department Opera" with the role of Lotteringhi in 'Boccacio' by Frans von Suppé. He made his debut with the Nederlandse Opera - which he joined permanent - on 5 August 1947 as Pinkerton in Puccini's "Madame Butterfly". The performance took place in the Stadsschouwburg of Amsterdam.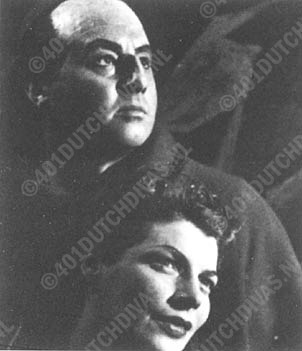 Johan van der Zalm and Gré Brouwenstijn in 'La forza del destino'.
During the last years of his career there was sometimes slighting spoken about the eternal house tenor of the 'Nederlandse Opera', but when you hear him now - as recent was possible in a radio broadcast of the Concert Radio - you realize how was sung opera in the Netherlands during the Fifties. A performance, such as 'Il Trovatore' from 1953, with a complete Dutch cast, which sounds as a bell: Leonora, Gré Brouwenstijn; Manrico, Johan van der Zalm; Graaf Luna, Gerard Holthaus; Azucena, Anny Delorie; Ferrando, Siemen Jongsma; Ines, Ans Keman; Ruiz, Chris Taverne and as Un vecchio zingaro' Gé Genemans. And than to remind that all the roles where double or even three times filled! During his long career Johan van der Zalm sang nearly almost all the great roles to sing in opera: Andrea Chenier (Giordano), Les contes d'Hoffmann (Offenbach), Cavaradossi in Tosca (Puccini), Manrico in Il Trovatore (Verdi) and Radames in Aïda (Verdi). In the last named role the ill Johan van der Zalm replaced an also ill expensive Italian colleague on December 1952.
Matthijs Vermeulen (a critic) wrote about it in the Groene Amsterdammer: " ... all praise to Johan van der Zalm, who dreamed in his youth, that he once could sing Radames, and whose wish is realized on a moment that he would preferably would stay at home, under the blankets with a warm grog and leave the whole lot for what it was. Splendid: keep up to the bitter end. Till his breath failed him and no sound came out his throat any more. That is also really Dutch ... ".
His final performance was in the same role of his operetta debut, now as Polycarpio in Boccacio, on 24 October 1975. With this he ended a successful career of ample thirty year.

Johan van der Zalm died in 1995.
You can hear him here as Manrico in a fragment of 'Il trovatore', together with the contralto Anny Delorie as Azucena. More about this cd, from which this fragment is, with Gré Brouwenstijn - new cd releases
Verdi, Il trovatore: 'Mal reggendo all'aspro assalto':