Hubert Delamboye
" ... Hubert Delamboye, der schon als Loge in Köln phantastisch war, hat sich nach einigen stimmlichen Problemen in der Premiere gefangen und singt nun einen der besten Tannhäuser unserer Zeit. Auch das restliche Ensemble ist durchweg gut ... "
TANNHAUSER, Dienstag, 8. Mai 2001, Hans Loetzerich, Herborn
" ... It began in Act I, very conventional in look and superbly sung by Ed Sooter, our Siegfried, and Hubert Delamboye, the Mime (on his way to take on a major career in heldentenor roles in Europe).. "
SIEGFRIED, August 1986, Seattle Opera, Speight Jenkins
" ... dagegen Hubert Delamboye als Loge, stimmgewaltig und weniger zappelig, als diese Partie gewöhnlich angegangen wird, ist er absolut überzeugend ... "
DAS RHEINGOLD (Oper Köln), Sven Lange, 22.12.2000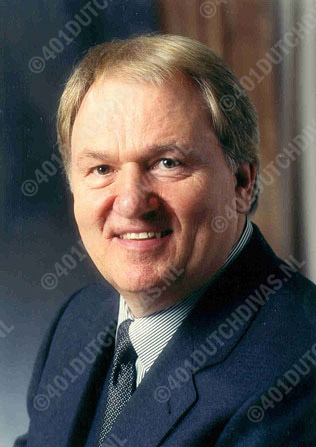 Dutch heroic tenor Hubert Delamboye was born in 1945 in Valkenburg, South Limburg. Parallel to his piano studies at the Maastricht conservatory Hubert Delamboye trained to become a singer. After his - cum laude - graduation in 1974 the tenor stayed under the control of maestro Leo Ketelaars for many years. Basis for building the large scope of roles his voice enabled him to sing was the Wiesbaden Opera which company he joined in 1975. Four consecutive intendants gave him the opportunity of debuting numerous roles which he considered suitable at the right moment. Delamboye still remains- as a guest artist- loyal to Wiesbaden.
The remarkable and steady development of Hubert Delamboye´s career is, without any doubt, a result of a combination of common sense, profound musicality and careful vocal training. Gradually, very gradually the modest Dutchman grew from a lyric tenor via character parts into the spinto "Fach"; in 1995 Hubert Delamboye felt ready to try out his first Tristan, which became an exceptional success.
Don José (Carmen), Mime (Der Ring des Nibelungen), Erik and Steuermann (Der Fliegende Holländer), the title role in Les Contes d´Hoffmann, Flika (Aus einem Totenhaus, Janacek), Bacchus (Ariadne auf Naxos), Laca and Stewa (Jenufa, Janacek), Canio (I Pagliacci) and Florestan (Fidelio) are examples of roles Hubert Delamboye sang in numerous houses in Europe and the USA. With the new production of Das Rheingold in Brussels his Loge got worldwide acclaim and became since the star part of the tenor.
After Delamboye´s Salzburg Festival debut (Lucio Silla, Mozart) in 1993 he was immediately invited to return to Salzburg for Alva (Lulu, Berg, 1995) and Hauptmann (Wozzeck, Berg, 1997) under Claudio Abbado. As a permanent guest in La Monnaie, the Metropolitan, in Seattle, Frankfurt, Amsterdam, Bregenz and, of course Wiesbaden, Hubert Delamboye added Otello, Prince (Rusalka, Dvorak), Nurredin (Der Barbier von Bagdad (Peter Cornelius), Siegfried, Herodes (Salomé, Strauss), Samson, and Faust to his repertoire.
Most recent as new role on his repertoire is Paul in Die tote Stadt (Korngold) at the Spoleto Festival which he will also sing in a new production in Wiesbaden and Cologne. Further future activities are Der Freischütz (Weber) in Frankfurt, Das Rheingold in Geneva and Katja Kabonova (Janacek) both at the Salzburg Festival and in Brussels. Hubert Delamboye worked with conductors as Claudio Abbado, James Levine, Kurt Masur, Nikolaus Harnoncourt and stage-managers as Otto Schenk, Jean-Pierre Ponnelle, Giorgio Strehler, Peter Stein and Herbert Wernicke.
In the vocal-symphonic field the tenors favourite works are the song-cycles and 8th Symphony by Mahler, Beethoven´s Missa Solemnis and 9th Symphony, Dvorak´s Requiem and Golgotha by Frank Martin.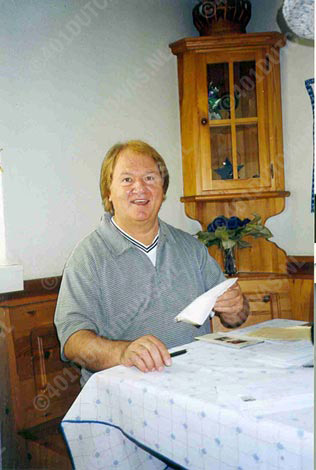 Hubert answering fanmail, From privat-collection Frits van Lijf
On September 23th 1986 Hubert Delamboye made his Dutch opera debut in the premiere of Ithaka by Otto Ketting on the occasion of the opening of the new Amsterdamse Muziektheater.
In 2002/2003, in three of the major opera houses of Europe the opera Boris Godunov was put on stage. Successively in Berlin, Hamburg and Covent Garden. In all three houses was performed an other version ... but what they had in common, was that Prince Sjoeiski (spelling Groot Operaboek/Great Opera-book, Riemens/van Lijf) was performed by the same singer: Hubert Delamboye.
There are still contracts for a.o. Frankfurt, Paris, Cologne, Madrid and Barcelona.
He made recordings for a.o. Castle Records - 25 year ago - and for Orfeo - Kata Kabanova - these last recording is available at CD as well as DVD. Also at the occasion of the 125th jubilee of the Mannenkoor(Mail Choir) St.Caecilia a commemoration-cd was released with the cooperation of Delamboye and soprano Angelina Ruzzafante. He also sang with the Koninklijke Zangvereniging Venlona where - again with Delamboye as soloist - a recording was made of a.o. Brahms' Rinaldo Cantata.
Verdi, Il trovatore, duet with choir: Miserere
soprano Angelina Ruzzafante, male-choir Mannenkoor St. Caecilia Sweykhuizen, live recording 2000