Therese Boyava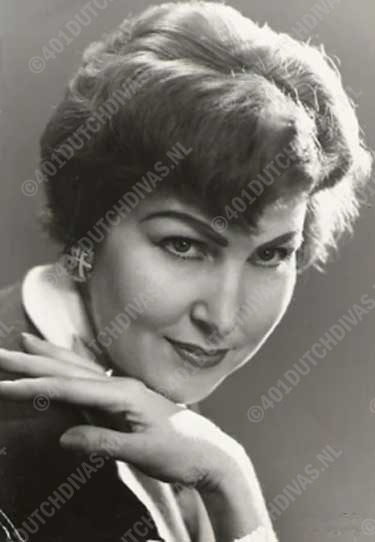 Therese Boyava, (1924-November 12, 1989) was born in Surabaya, Indonesia. Her voice was discovered at an early age and was invited to sing for the radio at the age of thirteen where she sang the " Bell-song" from Lakmé. Many other recitals followed, abruptly interrupted by the 2nd World War where she and her entire family were interned into Japanese concentration camps for 3 years.

Picking up the pieces of her life as so many others who were lucky enough to have survived the camps, she started giving concerts again in Post-war Indonesia. Records were made, but few survived through the years. After returning to The Netherlands, she started taking voice lessons with the renowned voice teacher "Ruth Horna" (1899-1983).

Stage recitals, radio recitals followed and soon she started singing in Germany where among other roles she shared the part of "Santuzza" in Cavalleria Rusticana and Leonora in La Forza del Destino with "Marijke van der Lugt" (1919-1989).

Offers started to come in from overseas, i.e. from The Lyric opera of Los Angeles in California, USA. Accepting to undertake the roles of Rosalinde(Fledermaus), Mimi, (La Boheme) and Butterfly (Mdme. Butterfly) she continued her career in the United States.
Theresa (also sometimes written in this way) Boyava soon flourished and had great success in many roles and oratorio recitals.

She was one of the main sopranos at The San Francisco Opera for the next 10 years, where her repertoire extended to Norma, Traviata, Il Trovatore, la Forza del Destino, Nabucco, Turandot, Donna Anna (Don Giovanni) The Countess in Le Nozze di Figaro, Antonia and Giullietta in Tales of Hoffmann, to Wagner's Elisabeth in Tannhauser/Elsa in Lohengrin.
Countless Messas di requiems by Verdi as well as Mozart and Handel's Messiah plus countless other oratorios and cantata.
Therese Boyava - ended her singing career in 1980.
by courtesy Raymond Modesti
Catalani, La Wally: sound "Ebben ne andro lontana" by Alfredo Catalani (1854-1893), San Francisco Opera 1968:
Therese Boyava sings 'Vissi d'Arte' from 'Tosca' by Giacomo Puccini (1858-1924) :
Therese Boyava, You Tube Therese Boyava sings "Glück das mir verblieb" from 'Die tote Stadt' by Erich Korngold (1897-1957) :