Greta Santhagens-Manders
"... among the young singers of the Co-Opera-Tie Greta Santhagens-Manders puts herself forward most. She has developed herself for the last years very well. In February 1928 she sang the role of Gutrune from Götterdämmerung on a truly magnificent way ... "
Averkamp, 1929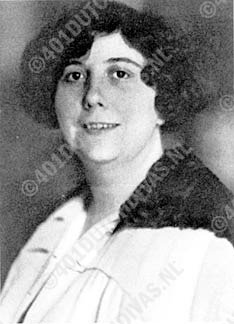 Greta Santhagens-Manders (1891-1976)
Greta Santhagens-Manders was born on February 11th, 1891 (1893?) in Rotterdam. Her opera-debut she made in 1917 as Mrs. Ford in the first performance in the Netherlands of Verdi's Falstaff organized by the Opera-Ensemble van de Zangacademie "Cornélie van Zanten". After her debut she joined the a great number of opera-companies and she also appears as operetta-singer with the company Opéra Comique. Great number of appearances with a.o. N.V Nationale Opera of Willem van Korlaar, De Nationale Opera and the Co-Opera-Tie in roles as Carmen (!), Santuzza (Cavalleria Rusticana), Tosca, Leonore (Trovatore) and Wagner-roles as Brangäne, Elisabeth and Kundry. In 1929 she performed the role of Kundry in the first performance of Wagner's Parsifal in Dutch language. She appeared on regular base on stage in Belgium, in Gent, Antwerp and Brussels. There she sang often together with the Belgium tenor Louis Morrison (1888-1934).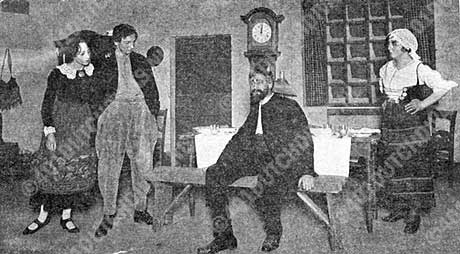 De zwerver (Le chemeniau), of Xavier Leroux, 15 November 1919. A performance of the N.V.Nationale Opera.
From left to right: Magda Litef (Aline), Rudolf van Schaik (Antoon), de zwerver/ tramp (Anton Dirks) and Antoinette (Greta Santhagens-Manders).

After her step back from musical live she established herself in The Hague. She made a great number of records for the label Homochord, all in Dutch language.
Greta Santhagens-Manders in Puccini's Madama Butterfly "Un bel di vedremo" , 1922